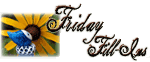 Friday Fill-ins has a new home! Check it out - just click on the button above.
1. October ...
is a great month for a birthday! :P
2. Darkness ...
doesn't scare me!
3. Haunted houses ...
are um.. haunted.
4. My favorite scary movie is ...
well I don't have one because I don't usually watch scary movies..
because ...
I'm chicken.
5.
Cockroaches do scare
... me.
6. It was a dark and stormy night ...
the perfect time to curl up under a blanket in front of a cozy fireplace and read a gothic novel.
7. And as for the weekend, tonight I'm looking forward to ...
sleeping
, tomorrow my plans include ...
spending time with H preferably with camera in hand
.. and Sunday, I want to ...
catch up with blogging and get some stuff done around the house and get organised for my trip!
Yesterday I received this Halloween treat from
.:mar
, which was created by
Hootin' Anni
- click on the link to read more about her idea behind the treats (scroll down past the haunted houses). We're supposed to pass it on to random visitors to our blog but I'm going to cheat (nothing new there!). I love all my bloggy friends and appreciate
everyone
who take the time to comment so I think you all deserve a treat! Enjoy!