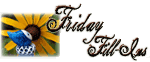 1. I enjoy..
reading (of course!) and sleeping late in a cozy bed
.. more than anything else.
2. Blogging satisfies my need for..
interacting with others, sharing my love of reading and having someplace to show some of my photos.
3. When I look at a full moon, I feel..
peace
.
4. If I want a snack, I usually reach for..
something salty.
5. The most recent movie I saw,
Ocean's Thirteen
made me..
pass some time in the airplane enjoying the eye candy.
6. If only..
the weather could stay like this all year long.
7. And as for the weekend,
tonight
yesterday
I'm looking forward to
..
we went for a walk, and enjoyed the autumn colours
,
tomorrow
today my plans included..
taking pictures and eating out
..and Sunday,
I want to get some stuff done around the house!