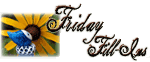 1. I ..
love the festiveness of
.. Christmas.
2.
White
.. is my favorite color for the Christmas tree lights.
3. The candles in the window have ..
no
.. bulbs.
Nothing in the window but I will have some candles inside.
4.
Love, Actually
.. is one of my favorite Christmas movies.
5. My favorite Christmas lyrics are .. ;)
"You scumbag, you maggot
You cheap lousy faggot
Happy Christmas your arse
I pray God it's our last."
--Fairytale of New York by The Pogues
because the song makes me smile every time I hear it!
Watch the video
here
.
6. I'm dreaming of a ..
white Christmas (yup just like the song).
7. And as for the weekend, tonight I'm looking forward to..
relaxing
, tomorrow my plans include ..
probably going out somewhere to take pictures as this'll be the last weekend for autumn leaves
.. and Sunday, I want to ..
finally do my New Years cards!