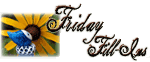 1. Snow ..
reminds me of my childhood and always makes me smile.
(These days, if I'm lucky, I might get 1 or 2 snow days so I never have to deal with ice, shoveling, etc. etc.)
2. I'm looking forward to ..
having some time off.
This has been a really busy week!
3.
Jiro
.. is the best ..
cat
.. ever!
(I had to say that because he's watching! Right now he's sitting on my lap, purring and giving me his 'I'm so cute and so loveable' look! But shhh... don't tell Bailey!)
4. One of my favorite old tv shows is ..
Sesame Street ?? ;-) Actually I'm pretty fickle about TV shows and my favourites now are modern ones. When I see the shows I used to love, I cringe at how cheesy they seem now.
5. I'm
almos

t
done with ..
teaching for this year. Only one more lesson next week.
6. The most enjoyable thing around the holidays is ..
relaxing, spending time with H, and eating lots of good food.
7. And as for the weekend, tonight I'm looking forward to ..
curling up in bed and reading
, tomorrow my plans include ..
maybe a bit of shopping for Christmas supplies
.. and Sunday, I want to ..
eat sushi (our Christmas tradition!) and pick up our Christmas cake!