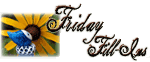 1. The last compliment I got was from
Danielle
; she said
"I've never really wanted to go to Japan, but every time I see your photos they make me want to travel there!"
2. I'm reading ...
A Tale of Two Cities

by Dickens
.
3. I woke up today
(or rather was woken up today, as usual)
and thought ...
damn cat! Bailey sure is noisy!
4. Why does ...
time pass so quickly?
5. The last thing I ate was ...
an oatmeal cranberry cookie
.
6. January...
the beginning of the year, when anything seems possible.
7. And as for the weekend, tonight I'm looking forward to ...
reading
, tomorrow my plans include ...
staying home or maybe a bit of grocery shopping,
and Sunday, I want to ...
spend time with H who's been away in Paris on business this week!
Earlier this week
Janet
made
my
day by giving me this award! Thanks Janet!
It's so hard choosing people to pass awards on to so I'm going to cheat and say simply that you
ALL
make my day!
Have a great weekend!