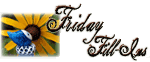 1.
A beautiful sunset
.. makes me happy.
2. I would like ...
a bigger apartment but I'd settle for some new bookshelves and more time to read
, please.
3.
Purdy's Hedgehogs
taste SO good!
4.
Saturday
.. is my favorite day of the week because ...
it's the first day of the weekend.
5.
Nothing According to H, kindness
... is my best feature.
6. We could learn so much from ...
each other if we took the time to listen.
7. And as for the weekend, tonight I'm looking forward to ...
my bed
, tomorrow my plans include ...
having a couple of people over
.. and Sunday, I want to...
relax and read!