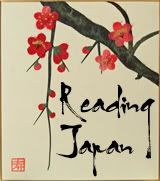 As part of my personal
Reading Japan Project
, I'm keeping track of the books I read that have a connection with Japan, either being written by a Japanese author, or with characters, set in, or relating to Japan in some way.
The following is a list of the Japanese literature and Japan-related books I have reviewed on
In Spring it is the Dawn
.
Clicking on a title will take you to my review.
Link to this list is available via the
Reading Japan
tab in the linkbar above.
NF = Non-Fiction, all other titles are fiction.
(If you're looking for more JLit reading inspirations, books that I have acquired but have not read, or have not yet reviewed, can be found in my
Reading Japan: TBR List
).
JAPANESE LITERATURE
(Alphabetical by
Author
. Unless otherwise noted, these books were originally published in Japanese and read in translation.)
Abe, Kobo -
The Woman in the Dunes
Akutagawa, Ryunosuke -
Rashomon and other stories
CLAMP -
xxxHolic, vol. 1
(manga)
Hino, Matsuri -
Vampire Knight, v. 1-3
(manga)
Ibuse, Masuji -
Black Rain
(based on true accounts)
Ichikawa, Takuji -
Be With You
Ishiguro, Kazuo -
An Artist of the Floating World
(British, written in English)
Iwasaki, Mineko -
Geisha of Gion
(NF)
Kadohata, Cynthia -
Kira-Kira
(American of Japanese descent, written in English)
Kanehara, Hitomi -
Snakes & Earrings
Katayama, Kyoichi -
Socrates in Love
Kawabata, Yasunari -
The Dancing Girl of Izu and other stories
Kawabata, Yasunari -
Snow Country
Kawabata, Yasunari -
Thousand Cranes
Kawakami, Sumie -
Goodbye Madame Butterfly: Sex, Marriage and the Modern Japanese Woman
(NF)
Kirino, Natsuo -
Out
Kirino, Natsuo -
Grotesque
Komomo (& Naoyuki Ogino) -
A Geisha's Journey: My Life as a Kyoto Apprentice
(NF)
Miyabe, Miyuki -
All She Was Worth
Mori, Kaoru -
Emma, vol. 1
(manga)
Mori, Kaoru -
Emma, vol. 2 - 7
(manga)
Mori, Kaoru -
Emma, vol. 8
(manga)
Mori, Kaoru -
Emma, vol. 9 & 10
(manga)
Mori, Kyoko -
Polite Lies: On Being a Woman Caught Between Cultures
(Japanese American, written in English)
Murakami, Haruki -
After Dark
Murakami, Haruki -
after the quake
Murakami, Haruki -
The Elephant Vanishes
Murakami, Haruki -
Kafka on the Shore
Murakami, Ryu -
Audition
Murakami, Ryu -
In the Miso Soup
Ōe, Kenzaburo -
The Silent Cry
Ogawa, Ito -
The Restaurant of Love Regained
Ogawa, Yoko -
The Housekeeper and the Professor
Ogawa, Yoko -
Hotel Iris
Shonagon, Sei -
The Pillow Book
Suzuki, D.T. -
Zen Buddhism: Selected Writings
(NF)
Tanizaki, Junichiro -
The Makioka Sisters
Tawada, Yoko -
The Bridegroom was a Dog
Tsutsui, Yasutaka -
Paprika
Ueda, Akinari -
Tales of Moonlight and Rain
Urasawa, Naoki -
Monster, vol. 1
(manga)
Watanabe, Jun'ichi -
Beyond the Blossoming Fields
Yamada, Taichi -
Strangers
Yamamoto, Tsunetomo -
Hagakure: The Code of the Samurai
(manga)
Yoshimoto, Banana -
Kitchen
JAPAN-RELATED BOOKS
(Alphabetical by
Title)
The Ash Garden
- Dennis Bock
Big in Japan: A Ghost Story
- M. Thomas Gammarino
The Character of Rain
- Amélie Nothomb
Clouds Over Mountains
- Matt Joseph
Hitching Rides with Buddha
- Will Ferguson (travel memoir)
How to Be an American Housewife
- Margaret Dilloway
Kuhaku & Other Accounts from Japan
- Bruce Rutledge (editor) (essays, stories)
Kwaidan: Ghost Stories and Strange Tales of Old Japan
- Lafcadio Hearn
Memoirs of a Geisha
- Arthur Golden
Plum Wine
- Angela Davis-Gardner
Princess Masako: Prisoner of the Chrysanthemum Throne
- Ben Hills (NF)
Sadako and the Thousand Paper Cranes
- Eleanor Coerr
Shutting Out the Sun: How Japan Created Its Own Lost Generation
- Michael Zielenziger (NF)
Taroko Gorge
- Jacob Ritari
A Year in Japan
- Kate T. Williamson (NF)
Rei Shimura mystery series by Sujata Massey:
Zen Attitude
The Flower Master
The Floating Girl
The Bride's Kimono