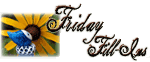 1. I'm looking forward to ...
another visit to the library and maybe stopping by the bookstore
... next week.
2. I don't handle ...
early mornings
... very well.
3.
Pasta
... is something I could eat every day.
4. Warmth and sunlight ...
filtering through a canopy of trees would be nice.
5.
Hayfever
Spring
... here I come!
6. I ...
don't have any
... tattoos.
7. And as for the weekend, tonight I'm looking forward to ...
finishing my current book
, tomorrow my plans include ...
going out to eat and also hopefully taking a few pictures since we haven't taken any (!) since our trip over New Years (darn weather lately!)
... and Sunday, I want to ...
move my desk to the other room. Yes I'm still in the midst of reorganising but it is coming along!