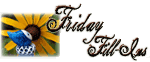 1. Once I was..
much thinner
.
2.
No one enjoys
.. being sick.
3. Today at
work
home I..
did some laundry, cleaned the bathroom (always a joy!), did the dishes, and watched a couple episodes of Heroes (Season 1).
4. What's..
the fuss about Lost
.. all about?
5. If I make a mistake I ..
usually own up and try to learn from it.
6. When I woke up this morning, I thought..
I can't believe it's February already.
7. And as for the weekend, tonight I'm looking forward to..
reading in bed with a cat at my feet
, tomorrow my plans include..
whatever we end up doing as we haven't made any plans yet
, and Sunday, I want to ..
stay home and read since it looks like it might rain!