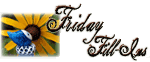 1. I'm looking forward to ...
my headache going away
.
2.
Mont Saint-Michel
... is a place I always wanted to visit and haven't made it there yet.
3. I
've fallen
fell
in love with ...
Paris a long time ago
.
4. Six of one, ...
a half dozen of the other
.
(I tried to think of something else but the idiom just got stuck in my head).
5. Addiction ...
obsession, optimism, call my book hoarding what you will.
6. The ...
sarcastic House-isms
... crack me up!
7. And as for the weekend, tonight I'm looking forward to ...
a hot shower and bed
, tomorrow my plans include ...
catching up on my blog reading
... and Sunday, I want to ...
meet up with a friend that I haven't seen in a while!
And since it's already Friday night here in my part of the world,
the contest
is now closed and all of your comments have been posted. Thanks to everyone for playing along. 24 of you guessed the right answer. In fact, no one guessed an incorrect title so it seems I may have to do a harder one next time!
Anyway, time to announce a winner. In the order that you posted, according to the time stamps on your comments, each of you received a number from 1 to 24. Then
this handy random number generator
spit out a 12, so it looks like the winner is...
Congratulations and happy book shopping!


And thanks again to everyone who entered their names. I wish I could give you all an Amazon gift certificate but I'm not sure H would agree. Oh well, there's always next year! Have a good weekend everyone! :)