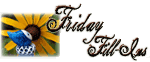 1.
Learning something new about the place, the people or the culture
... is the best thing about traveling.
2. I love a good ...
mug of hot tea
... when I'm cold.
3. I often use ...
my microwaveable wheat pillows to keep my feet warm.
4. I'm reading ...
The Great Gatsby
... right now; I ...
only just started it so I don't know yet know what I think about
... it.
5.
Politics
... is something I dislike talking about.
6. When I visited ...
Shirakawa-go over New Year's
... I most looked forward to seeing ...
snow
.
7. And as for the weekend, tonight I'm looking forward to ...
picking up my book
, tomorrow my plans include ...
continuing my project to reorganize a couple of rooms and the closets which are very messy indeed!
... and Sunday, I want to ...
read but I'll probably still be working on the reorganizing!
And I finally got a rating. I'd tried a couple times before but it always came back with some comment about not being able to assess my blog. Anyway, saw this again and thought I'd try once more and this is what it came back with today, for what it's worth.