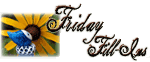 1. Ahhhh, it's so nice ...
that the

ume

(Japanese plum) trees are blooming.
2. One of my favorite things on my desk is ...
my PC of course! There would be no internet or blogging without it! Can you imagine?
3. Japanese Cherry Blossom ...
season is what I'm looking forward to this spring.
4.
My bed
... is my favorite place to sit and read.
5.
Rhubarb
and
apple crumble
... is delicious!
6. I love to watch ...
dramatic scenery
... in movies.
And a sexy leading man doesn't hurt either! ;)
7. And as for the weekend, tonight I'm looking forward to ...
a cozy bed
, tomorrow my plans include ...
visiting some friends
... and Sunday, I want to ...
see some of those
ume
blossoms! (Unfortunately there aren't any

ume

trees in our neighbourhood).