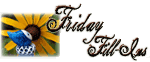 1.
Visiting new places
... is so exciting!
2. Strawberry fields ...
are nice but I'd rather have a field full of raspberry bushes
.
3.
My mom's homemade chocolate zucchini cake
... sounds like it would taste delicious!
(It always was delicious. I wish she was still around to make it for me).
4. Why does ...
a tidy apartment
... make me feel so good?!
5.
The Aurora Borealis
... is something I've always wanted to see.
6. It's sad when ...
there is no chocolate in the house.
7. And as for the weekend, tonight I'm looking forward to ...
starting a new book since I finished 'Birds of a Feather' earlier today
, tomorrow my plans include ...
enjoying the sun (you won't catch me saying that in a few months) and maybe taking a walk
... and Sunday, I want to ...
read and relax or go somewhere with H!