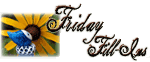 1. Tonight I saw ...
the building shake
.
(The earthquake took place about 100 km NE of Tokyo and was a magnitude 5 there but registered as a 3 in the Tokyo area).
2.
A day off to do whatever I want
... makes me wanna dance!
3. Splitting a few appetizers between friends ...
is always fun!
4.
David Mitchell
... is someone I'd like to get to know better.
(I met him once at a signing and he was such a nice guy. I'd love to swap Japan stories with him).
5. The smell of ...
cherry blossoms
... reminds me so much of springtime!
6.
A mug of hot tea, a good night's sleep
... and that made it all better.
7. And as for the weekend, tonight I'm looking forward to ...
reading a bit in bed
, tomorrow my plans include ...
enjoying the departing cherry blossoms
... and Sunday, I want to ...
maybe stay home and relax and hopefully get over this cold that's been dragging me down all week!