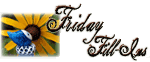 1. The last time I lost my temper I
frightened the cats!
;)
2.
My weight
is what I'm fed up with!
3. The next book I'd like to read is
Once Upon a Time in the North by Philip Pullman which just arrived (see #6).
4.
Dry, sandal-wearing weather
is what I'm looking forward to.
5. If you can't get rid of the skeleton[s] in your closet,
dress them up and have a fashion show!
6. The best thing I got in the mail recently was
books
.
Yesterday. Four of them.
:)
7. And as for the weekend, tonight I'm looking forward to
a nice mug of hot tea (which I'm going to go make right now)
, tomorrow my plans include
maybe going shopping or taking pictures or staying home or going out to eat - it all depends on the weather
and Sunday, I want to
do whatever we didn't do on Saturday!