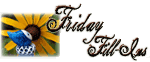 1. When I fell in love
it changed the course of my life forever!
2.
You know summer is on its way
when the flowers bloom and it heats up outside!
3. Oh no! The internet connection is down,
I'm suffering from withdrawal!
4.
Any Japanese late night variety show
is the craziest tv show ever.
5. Cheese and
anything
make a great meal!
6.
I wish we had
a garden.
7. And as for the weekend, tonight I'm looking forward to
reading a bit in bed
, tomorrow my plans include
hanging out at home and catching up on a few things
and Sunday, I want to
take my camera out- the azaleas are blooming!
This week I received the Blogging Gold Card Award from the always lovely
Bellezza
who had the nicest things to say about me. Thanks Bellezza! I'm going to copy
Nymeth
and instead of passing this on to a limited few, I suggest you have a look down there on the sidebar for a sample of the many wonderful blogs of my fellow readers that I try to keep up with.