Quick! It's an emergency! You just got an urgent call about a family emergency and had to rush to the airport with barely time to grab your wallet and your passport. But now, you're stuck at the airport with nothing to read. What do you do??
And, no, you did NOT have time to grab your bookbag, or the book next to your bed. You were . . . grocery shopping when you got the call and have nothing with you but your wallet and your passport (which you fortuitously brought with you in case they asked for ID in the ethnic food aisle). This is hypothetical, remember….
(I haven't joined the Booking Through Thursday for a long time. A combination of thinking I don't have anything new to say on a question or, most often, not seeing it until late on Friday and just not bothering. Call me lazy! But this week I thought why not? )
Easy. I'd go to the bookstore inside the airport and pick up something. I'd be sure to find
something
I could read. Airplanes are good for reading brain candy type books anyway so I could indulge in something I might not normally buy. Of course if I was stuck in Narita (the airport outside Tokyo), which I suppose is highly possible, I may have more trouble. But even there I should be able to find something to read in English. If the book selection is really dismal, there are always magazines or newspapers available in English. So while it might not be my first choice, I wouldn't be completely without reading material. And for Plan C (if there really is nothing to be found), buy some motion sickness pills that cause drowsiness and sleep the entire flight! ;)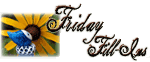 1. Two of my favorite ingredients in a drink are
ice cubes and a splash of lime
!
2.
Mother Nature
often amazes me.
3. You can keep doing that forever, the dog is
oblivious and the cat is ignoring you
.
4.
Take two cats, add some catnip
, mix it all together and voila! You have
instant entertainment
!
5. If I had a yard with a garden, I would love to grow
tomatoes (a food staple in my house), and raspberries and rhubarb since they are almost impossible to find here
.
6.
Animals
is
are best au naturel.
Some of the doggy outfits you see here are pretty silly. No,
these are not baby clothes
.
Dogs now outnumber children under 10
.
Oh the irony
!
7. And as for the weekend, tonight I'm looking forward to
relaxing
, tomorrow my plans include
staying home and re-organizing a closet since the forecast is for rain
and Sunday, I want to
get out of the house and do something or other
!