*
May 8, 2008 1:45 am
- Night owl that I am I wasn't asleep yet when we felt, what is probably the strongest earthquake I've ever experienced so far, the house shake for a good few minutes. Nothing fell down but things were rattling on the shelves, the doors and walls were swaying. It was a magnitude 6.7 where it originated but it seems that what we felt here was about a 4 on the Japanese intensity scale. Let's just say it was the first time I've actually moved to stand in a doorframe, all the while thinking that I haven't checked the expiry dates on the stuff in the earthquake kit in a while. Probably not the best time to think that. All is fine though. (Image from
Canada.com
)
*Bailey is
such
a naughty boy lately! He's like a tantrum-throwing toddler and a rebellious teenager all wrapped up in one some days. I'm so tired of dealing with his behaviour issues and the lack of sleep from him waking me up at all hours. Anyone want a badly-behaved, but otherwise cute white male cat? ;)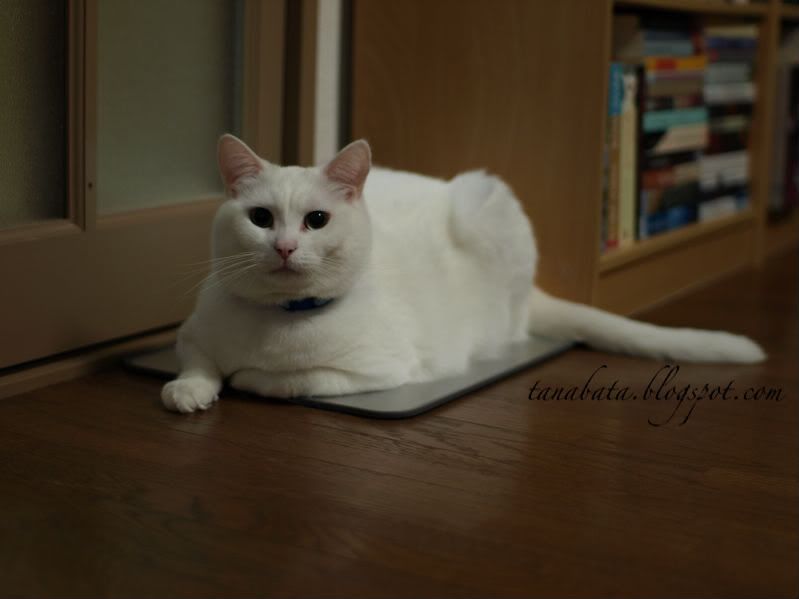 (No, I don't
really
want to give him away as much as I'm tempted to some days. He's been sucking up to me today but we'll see how long that lasts! I think he's grumpier than usual now that it's warmer. (I can relate to that!) He's already started hanging out on his cool sheet, made of metal so it always feels cool, as seen in the pic. Poor guy, it's only going to get much much worse!)
Writing guides, grammar books, punctuation how-tos . . . do you read them? Not read them? How many writing books, grammar books, dictionaries–if any–do you have in your library?
I've never aspired to be a writer so I don't have many writing books of that type but I do have quite a few textbooks and reference books for teaching English as a Second Language.
Practical English Usage
by Michael Swan is my Grammar
Bible
and I refer to it often. I also have a handful of non-fiction books on various aspects of English language and grammar like
Blooming English
by Kate Burridge or
Eats, Shoots and Leaves
by Lynne Truss. Sadly I haven't read most of them yet, though
Eats, Shoots and Leaves
was quite amusing.
I still have many of my Applied Linguistics texts from university and I sometimes look at them and think I would probably enjoy them more now that I don't have to write a paper on them. Except perhaps for
Transformational Grammar
. If I never have to look at it again that would be fine with me. All those sentence trees are far too math-like, that big red book is simply taking up valuable space! But it's especially the ones to do with the social aspect of the English language or the history of it, as I love knowing where words came from, that most appeal to me now.
Moving on from the English language, I have quite a collection of second language (for me) textbooks and dictionaries. Represented are my one semester dip into Italian and Spanish, and a few books on Ukrainian. Then I have a shelf full of French study materials, dating back to when I studied it in school and later spent a year in France on a student exchange. I still have a bit of a love affair with France and the French, although my speaking ability is extremely rusty now. And last, of course, I have two shelves
full
of Japanese language study materials. Textbooks, and kanji books, and dictionaries, and vocabulary books and worksheets and ... and... Sigh. They mock me on a regular basis. And pretty much every time I leave the house and mangle the language in a shop or somewhere I feel bad about not studying it more seriously. Another New Year's Resolution that I haven't made good on. So I guess the verdict is that I have quite a lot of language-related reference material but I hardly use any of it. :(