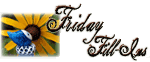 1. On my laziest day I like to
ignore the housework that needs doing, and stay in my pyjamas all day reading and napping!
2.
Cleaning and doing laundry
makes me feel like I'm being productive.
3. I love little
notebooks
and big
bookshelves
.
4. This summer
(like every summer spent in Japan)
I want to
hide indoors in an air-conditioned room.
5.
Reading other book blogs and also wanting a place to share some of my pictures
made me start my blog.
6. Red
has only recently become one of my favourite colours
and orange
is my favourite kind of juice
.
7. And as for the weekend, tonight I'm looking forward to
reading in bed
, tomorrow my plans include
staying home
and Sunday, I want to
read
!