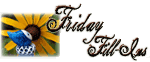 1. For me
conformity
is the opposite of creativity.
2.
Kafka on the Shore by Haruki Murakami
was the last excellent book I read.
3. I like fill-ins because
they're fun
.
4. In nature I like looking at
trees, flowers, water, birds ... just about anything really... well, except cockroaches, snakes and other creepy crawlies
.
5.
Obama
should win the US elections.
6. The last time I laughed with all my belly was
because Jiro was being very silly
.
7. And as for the weekend, tonight I'm looking forward to
relaxing
, tomorrow my plans include
not sure yet since the forecast is for more rain
and Sunday, I want to
possibly get out and take some pictures if the weather clears
!