I've had a few people give me links to their reviews this week, since implementing
the new policy
here on my blog as part of the
Weekly Geeks Challenge for Week #2
. (In case you missed what this is about, click on the link just above for more details). This has been a rather busy week for me so I haven't had a chance to search other blogs for reviews of books that I've also read, but I still plan to do so when I find the time. I definitely want to continue adding review links to mine here and will keep this as a standard policy on my blog, plus I think it'll be easier to keep up with future reviews as they are written. For the next little while at least, I'll try to remember to ask for links at the bottom of my book review posts. Thanks, Dewey, for encouraging us to incorporate a useful feature in our blogs.
Updated to add:
I just read
Florinda's post
and I have to agree with her wholeheartedly. Having a list of books read somewhere easily accessible or visible on the blog, is extremely helpful. You can find lists of the books I've read in the last 2 years linked in my sidebar, over there on the far left, just under my new 'Review Policy'. And one of these days I'll get around to making the list of books read in 2006, the year I started blogging.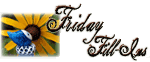 1. The
scrumptious chocolate cake that my mom used to make
had an extra secret ingredient; it was
zucchini
!
2.
There is a nice cool evening breeze coming
through my window.
3. Right now, I need
sleep. Darn cat keeps waking me up several times each night and I'm exhausted.
4.
A coffee shop where I met one of my students for an hour
is where I went Thursday night; it was
much like every other Thursday
.
5. Why do
cat scratches
hurt so much?
6. All I can think of is the
bed, the book, and the weekend ahead
.
7. And as for the weekend, tonight I'm looking forward to
sleeping
, tomorrow my plans include
sleeping
late
and Sunday, I want to
sleep and read
!
Of course all these sleep plans are probably wishful thinking. I may be reduced to having afternoon naps when said cat is also asleep!