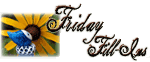 1. Birthdays are
a nice excuse to eat cake
.
2.
In Japan, fall
is my favorite season because
it means summer is over and the maple trees turn gloriously red
.
3. I feel my best when
I've had enough sleep
.
4.
Cheese
is my favorite food!
5. First impressions are
sometimes hard to overcome
.
6. The best piece of advice I ever received was
if at first you don't succeed, try again
.
7. And as for the weekend, tonight I'm looking forward to
a good night's sleep
, tomorrow my plans include
going out somewhere with H, maybe to take pictures of hydrangeas
and Sunday, I want to
read
!
--------
123 meme
1. Pick up the nearest book, and open it to page 123.
2. Find the fifth sentence, and post the next three sentences.
I'm currently reading
Farewell to Manzanar
by Jeanne Wakatsuki Houston & James D. Houston.
When his bus pulled out I only knew that if anything happened to him the world would probably be coming to an end, because

nothing

could happen to Woody. He had always been so solid. I hugged Mama while we watched his final wave through the window, his mustache lifting above that impish smile, as if we had all just pulled a fast one on the world.