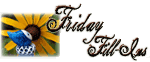 1. If I could be a fly on the wall I would
love to see what the boys get up to when we're not here
.
2. Jealousy is
so destructive
.
3. When I see a shooting star my wish would be that
there would be less violence
.
4. I'd rather be
reading
than
vacuuming
any day!
5. Certain songs when I hear them make me wanna
dance
.
6. If time were in a bottle
it would be cracked and leaking
.
7. And as for the weekend, tonight I'm looking forward to
having dinner out
, tomorrow my plans include
relaxing, reading and trying to stay cool
and
Sunday
Monday, I want to
enjoy the day off
!
A couple of books caught my eye this week. First is Haruki Murakami's soon to be published (in English) memoir,
What I Talk About When I Talk About Running
. And while looking up Murakami's memoir, I stumbled across a
Murakami Diary for 2009
which looks quite fun. Then I also discovered that Natsuo Kirino has had another book published in English,
Real World
, which sounds like it'll be as dark as her other books. I've only read
Out
so far but I think I'll have to read another one soon.