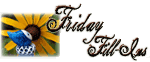 1. I believe whatever doesn't kill you
makes you bitter stronger
.
2. If you're good at something,
you should make the most of it
.
3. Why so
blue
?
4. Something is out there, it's
taunting me
.
5. If my life were a sitcom, it would be titled
Momma's Boys
.
6. Sitting on my
back porch
sofa I see
the TV, a couple of sagging bookshelves, and the boys flopped out on the floor.
7. And as for the weekend, tonight I'm looking forward to
having dinner with H and his brother who is in Tokyo on business today (we had sushi and it was very good!)
, tomorrow my plans include
staying home to avoid the heat, reading, and watching DVDs with H
and Sunday, I want to
do more of the same
!