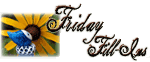 1. I enjoy
a well-told story, a beautiful photograph, a nice meal out, a walk on the beach, a colourful sunset ...
2.
How fast time always seems to disappear
is something I wonder about often lately.
3. In your heart, you knew
it could never be
.
4. Take
a goofy cat
, add a little
string
and you end up with
a comedy routine
.
5. Life has gifted me with
three silly boys (=one husband and two cats)
.
6.
Getting lost in a good book
is an instant vacation.
7. And as for the weekend, tonight I'm looking forward to
reading more of Perfume
, tomorrow my plans include
maybe going out for dinner
and Sunday, I want to
read or work on a photo project
!
Here are the most recent additions to my wishlist:
The Heretic's Daughter
by Kathleen Kent (after reading
cariboumom's review
)
The Gravedigger's Daughter
by Joyce Carol Oates (after
BooksPlease mentioned it
)
A Fine and Private Place
by Peter Beagle (after reading
Nymeth's review
)
Olive Kitteridge
by Elizabeth Strout (after reading
Gentle Reader's review
)
And if you haven't already, you have just a couple of days left to enter to win a copy of
The Heretic Queen
(or
Nefertiti
) by Michelle Moran over at
Books 'N Border Collies
. Click
here
for info on the prizes and to enter. Oh and let her know I sent you.
BTW, I added a button in my sidebar that will take you to my photo blog. I do hope you'll stop by.