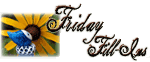 1. There is no need
to make things more difficult than they already are
.
2. Where in the heck did the
cookies disappear to?
3.
Today, housework and a little bit of blogging
is all I managed to do.
4. Prospects for
immediate satisfaction include chocolate and a good book
.
5.
I wonder if this
is the message
I've been waiting for
.
6. Simplicity and tranquility are
what I crave
.
7. And as for the weekend, tonight I'm looking forward to
sleeping on clean sheets
, tomorrow my plans include
staying home as the typhoon passes by
and Sunday, I want to
curl up with my book
!
Yup, hardly surprising, I've added a few more books to my wishlist this week.
BTW, just to clarify, my
wishlist
is my very long list of books that sound interesting and that I'd like to possibly read at some point. My
TBR
pile/mountain consists of books that I already own but haven't read yet. For the purposes of the Friday Finds, I always mention books that I've recently added to my
wishlist
, not ones that I've bought or received. Those I usually mention in the Sunday Salon. OK, so here are a few of the books that have appealed to me this week from my travels around the blogosphere.
Fugitive Pieces
by Anne Michaels (
glowing review by Heather
at
The Library Ladder
) From Amazon:
Fugitive Pieces
is a book about memory and forgetting. How is it possible to love the living when our hearts are still with the dead? What is the difference between what historical fact tells us and what we remember? More than that, the novel is a meditation on the power of language to free our souls and allow us to find our own destinies.
We Have Always Lived in the Castle
by Shirley Jackson. (
review by Nymeth
at
things mean a lot
) From Amazon: Taking readers deep into a labyrinth of dark neurosis,
We Have Always Lived in the Castle
is a deliciously unsettling novel about a perverse, isolated, and possibly murderous family and the struggle that ensues when a cousin arrives at their estate.
The Last Queen
by C.W. Gortner. (
guest post
at
bookroomreviews
) From Amazon:
The Last Queen
brings to life the grandeur, drama, and intrigue, as well as the humanity, of a time and a woman rarely written about. Juana of Castile is legendary in Spain; but, was she truly mad? Or has she been misjudged by history?
The Suspicions of Mr. Whicher
by Kate Summerscale. From Amazon: The dramatic story of the real-life murder that inspired the birth of modern detective fiction. A provocative work of nonfiction that reads like a Victorian thriller.
The Gentle Axe
by R.N. Morris (
mentioned by Iliana
at
Bookgirl's nightstand
) A historical crime novel set in St. Petersburg, Russia in 1866.
The Lace Reader
by Brunonia Barry. From Amazon:
The Lace Reader
is a mesmerizing tale that spirals into a world of secrets, confused identities, lies, and half-truths in which the reader quickly finds it's nearly impossible to separate fact from fiction, but as Towner Whitney points out early on in the novel, "There are no accidents."
Tantalize
by Cynthia Leitich Smith. Of
Tantalize
, Cynthia Leitich Smith says, "I tapped into my romantic nature, my love for monsters and marinara. Hold the garlic and enjoy!"
And don't forget, you've only got until Saturday night to enter
my giveaway
to win a signed copy of
Matrimony
by Joshua Henkin.