Whew! This week just flew by for me! I'm not purposely ignoring anyone, I promise, it's just been a crazy week.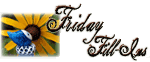 1. October
is when I start to feel alive again after the oppressive heat of summer. It's also the month in which I become a year older.
2.
People who kill in the name of religion
scare me!
3. Leaves are falling all around, it's
a wonderful season for taking photos
. (Here in Tokyo the leaves are still green and still firmly attached to the trees, it'll be at least another month before they start to change but I can't wait!)
4. My favorite horror movie is
???
because
I'm just not into horror movies
.
5.
A beautiful boy, France, young love
= good memories.
6. It was a dark and stormy night
so I curled up with a blanket and a book
.
7. And as for the weekend, tonight I'm looking forward to
a good night's sleep
, tomorrow my plans include
going out to do a bit of shopping
and Sunday, I want to
try to catch up on blogging and everything else I haven't had time to do lately!
Only a couple this week, but then I'm so far behind in reading blogs, who knows how many I missed!
Tears of the Desert: A Memoir of Survival in Darfur
by Halima Bashir (with Damien Lewis) - I added this to my wishlist after reading
Natasha's review
. Then Anna's
wonderful review
this week confirmed that it's a must read!
Capote in Kansas
by Kim Powers - I'd seen it mentioned a few places but it was Iliana's
interview with the author
that sold me!