I'm back from my little blog break but boy am I behind now. I have blogs to visit, books to read, emails to send, photos to sort, and many other things besides but I didn't seem to get much of anything done today. Oh well, there's always tomorrow. I haven't been reading a whole lot over the last couple of weeks either because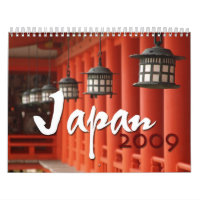 I was spending most of my free time working on the photo project I
unveiled yesterday
. I found out today that my
Japan 2009 Calendar
was featured in Zazzle's
"Today's Best"
on Saturday. I wonder how those are chosen but it was nice to hear regardless. To celebrate my new online venture, don't forget to enter
here
for your chance to win one of my calendars.
But back to books, since I last joined the Salon two weeks ago, I finished reading
Wuthering Heights
, which I ended up really enjoying despite the very unlikeable main characters. Since then I've been reading the stories that make up
Lighting the Dark Side
by William R. Potter. I'm off to bed soon where I plan to get cozy under the covers (I'm loving this cooler weather!) and finish off the last story in the collection. I've liked all of them so far, but I'll tell you more when I review the book later in the week. So just a quick post from me this Sunday. Hope you all have a good week ahead.