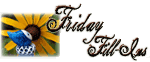 1. Snow
is something is almost never get to see. I miss it!
2. I'm looking forward to
someday not feeling so behind in everything
.
3.
Lamy
is the best
pen
ever! (says H who has recently become a huge fan. I'm happy enough with my old Waterman but have been eyeing an
Acme pen
lately and would love a
MontBlanc
someday. H's
second
response was N is the best wife ever! Even though he said it jokingly, awww! :)
4. One of my favorite old tv shows is
Scarecrow and Mrs. King
. Course it seems pretty cheesy now. :P
5. I'm done with
long hair
.
6. The most enjoyable thing around the holidays is
spending time with family and friends, and of course the food
!
7. And as for the weekend, tonight I'm looking forward to
sleeping, it's been a long week
, tomorrow my plans include
probably going out somewhere to take pictures
and Sunday, I want to
relax and read, but instead I'll most likely spend the day doing stuff around the house
! It's a mess lately and H's brother is staying with us next week.
---
It's been a while since I posted any finds here but of course I've still been adding to my wishlist! So here is a sampling of what's appealed to me over the last little while.
Man in the Dark
by Paul Auster -
review by Karen
(BookBath)
Silent Girl
by Tricia Dower (short stories loosely based on Shakespeare's heroines) - review by
Andi
at
Biblio Buffet
Good to a Fault
by Marina Endicott (nominated for the Giller Prize)
Album of the Damned: Snapshots from the Third Reich
by Paul Garson -
review by Nancy
(Bookfoolery and Babble)
Metropole
by Ferenc Karinthy - thanks to
Iliana
mentioning NPR's
Best Foreign Fiction of 2008
*I don't remember now where I 'stole' this button from, so if you made it, it's great - thanks! And I hope you don't mind. :)