Snow + Victoria is not a combination we usually expect but this year it looks like Victoria will actually have a white Christmas. Luckily we arrived on Saturday after only a few minor delays, because since Sunday flights in Vancouver and all across Canada have been majorly delayed or cancelled. Instead we've been having fun trying to get around in our rental car the last couple of days. We almost got stuck getting out of the parking lot at my father's apartment building this morning - it's down a slope with pretty deep snow! Since it rarely gets snow, Victoria isn't very well equipped to deal with it so the main roads are mostly getting cleared but all the side roads are buried. It's been an adventure so far, and other than it limiting our getting around and visiting, I am enjoying the white winter scenery. This is what it looked like this morning near where we're staying.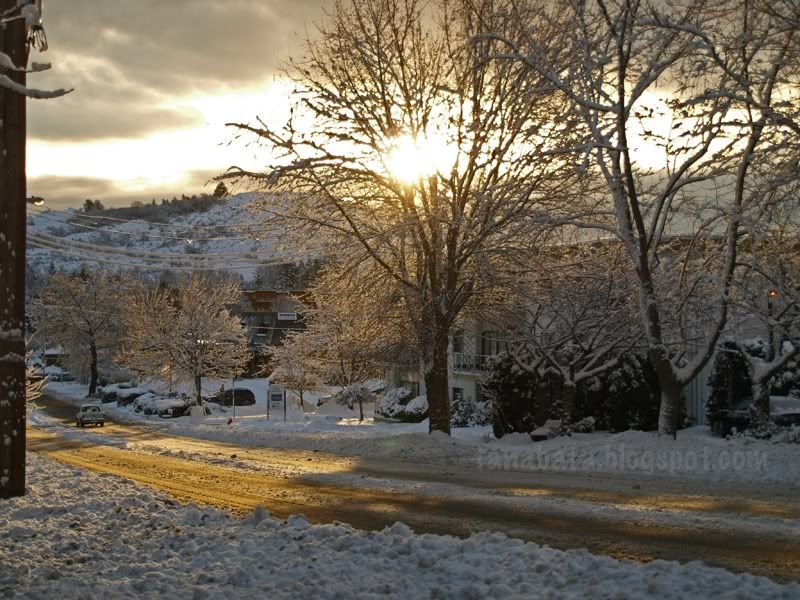 After a wander around in the snow taking a few photos, we walked to the nearby Starbucks. There's something so wonderfully wintery about coming in from the cold and snow for a hot chocolate, don't you think?
We've got it set up now that we can connect to the internet on our laptops so I should be able to post a little bit while we're here, and reply to the comments that I'm behind on. For those of you getting slammed with snowstorms I hope you're all staying safe and warm.