It's now 5:20 PM on Sunday afternoon in Japan, in Hour 21 of the Read-a-thon, and here's what I've accomplished since my last update 5 hours ago.
Time Spent Reading: 160 Minutes
Total Time Spent Reading: 8 Hours
Pages Read: 332
Total Pages Read: 808
Total Books Completed: 4 (
The Graveyard Book
by Neil Gaiman,
Mouse Guard: Fall 1152
by David Petersen,
Emma, vol. 8
by Kaoru Mori,
The Character of Rain
by Amélie Nothomb)
Time Spent Blogging: 75 Minutes
Mini-challenges Entered: 1
Participants Visited: 10
Food/Drink Consumed: I made myself a sandwich for lunch. Then a bit later it was time for snacks.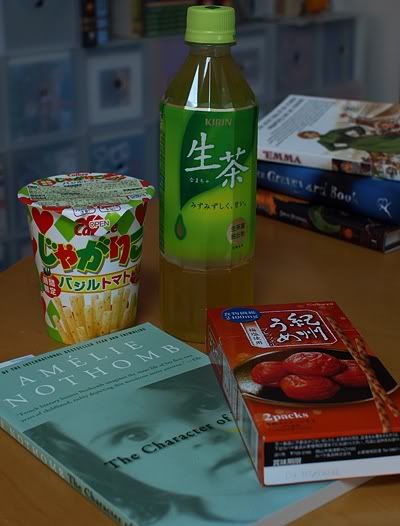 Mood: Happy to have just completed my fourth book. Yay! But also a little overwhelmed. I'm really in awe of those of you who are reading
and
cheerleading! How do you do it? Every time I start trying to visit some other participants I keep getting distracted and end up wasting time on the computer without really getting much done. Sigh. So please accept my apologies for not visiting around nearly as much as I would like. And good luck to eveyone who is still conscious for the remainder of the read-a-thon. :)