It's now 5 AM on Sunday morning in Japan, just beginning Hour 9 of the Read-a-thon, and here's what I've accomplished since my last update 5 hours ago.
Time Spent Reading: 2 Hours 45 Minutes
Total Time Spent Reading: 4 Hours 25 Minutes
Pages Read: 213
Total Pages Read: 311
Books Completed: 1 (
The Graveyard Book
by Neil Gaiman)
Total Time Spent Blogging: 2 Hours 15 Minutes
Mini-challenges Entered: 2 (but none since the last update)
Bloggers Visited (since last update): 5
Food/Drink Consumed: Just some juice but I'm hungry now so it may be time for snacks, or cereal.
Other Activities: I took a break and played with the boys. Cat + laser pointer = Entertainment!!
Mood: Happy to have finished my first book. I'd originally thought I'd sleep for a few hours from 3 AM but as you can see I'm still up. My eyes are a bit tired though so I'm going to read something short and fun next, probably a manga or a graphic novel. And then I may lie down for a bit. So if you don't see me again for a few hours, don't be alarmed. I will return.
Hope everyone is having a great day so far!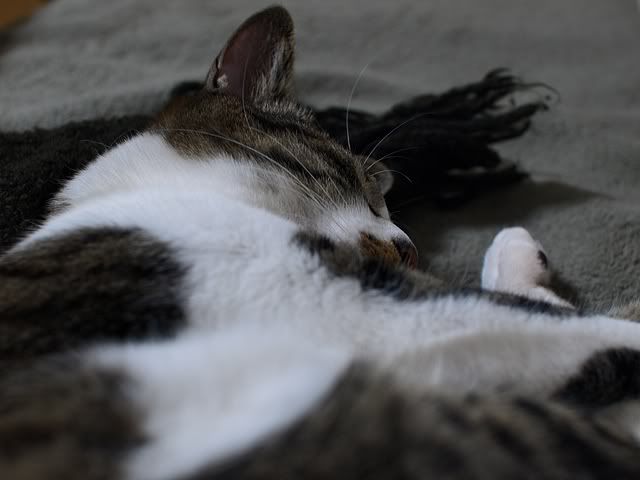 The view to my right, my reading buddy, Jiro.