Well,
Dewey's Readathon
for April 2009 is now over. Whew! I was surprised again by how fast the time flew by, but I'm pretty pleased with my day of reading. Here's how I fared.


Total Time Spent Reading
: 8 Hours 50 Minutes
Total Pages Read
: 948
Total Books Completed
: 5
Total Time Spent Blogging
: about 6.5 Hours
Since I completed 5 books, times that by my pledge of $5 per book, it means I'll be donating an additional $25 to the
Book Wish Foundation
this month, which I'll be adding to the approx. $50 I've accumulated since January.
Last year, for the read-a-thon in October, I read 605 pages in 10 hours and 5 minutes (actual reading time - blogging and other activities subtracted) and completed 4 books, so even though I actually read for less time this time, I think I did pretty well. I also had fun taking pictures of some of the Japanese snacks I nibbled on during the read-a-thon, and my reading buddy Jiro, which you can see in the update posts below.
These are the books I read during the read-a-thon: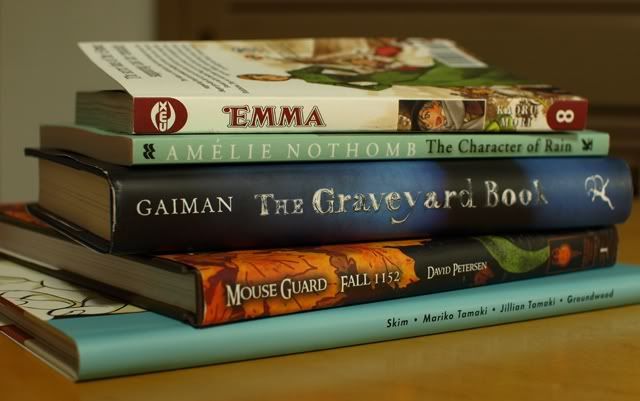 Emma, vol. 8
- Kaoru Mori
The Character of Rain
- Amélie Nothomb
The Graveyard Book
- Neil Gaiman
Mouse Guard: Fall 1152
- David Petersen
Skim
- Mariko Tamaki & Jillian Tamaki
My favourite of those is
The Graveyard Book
. A wonderful fantastical tale of growing up. I had tears in my eyes at the end of it! I really enjoyed all of them though. Reading graphic novels was great for my tired eyes and sometimes waning concentration. The art in
Mouse Guard: Fall 1152
was simply stunning, and the story in
Skim
was quite moving. It was fun to find out more about some of the minor characters in the
Emma
series that I read last month, and Amélie Nothomb's perception of the world is always amusing to read. Now I have a lot of reviews to catch up on but it was a very successful day of reading all round. Well done to everyone who participated in the read-a-thon, and thank you again to the wonderful co-hosts, and organizing geniuses
Nymeth
,
Hannah
and
Trish
.
Last week, before the read-a-thon, I also finished reading
Dear Everybody
by Michael Kimball. It was both humourous and touching at the same time and I quite enjoyed it. Now I'll be getting back to the short stories in
Mother Superior
by Saleema Nawaz, but tomorrow, after I've had some sleep. How was your weekend?
Week in Review:
Blog comments, and Bookshelf Meme
'The Triumph of Deborah' by Eva Etzioni-Halevy
(review)
Read-a-Thon: The Book Stack
Let the Reading Begin!
Read-a-thon: Update One
Read-a-thon: Update Two
Read-a-thon: Update Three
Read-a-thon: Update Four
Read-a-thon: Final Update