Thank you to those of you who expressed interest in joining a Japanese Literature Reading Group and/or Read-along when I asked last week, and for encouraging me to go ahead with this. After listening to your input, here are the book choices and the schedule for our first group reads.
Opinion was pretty equally divided between having the discussions on a fixed day of the week vs. a fixed date. I hope it won't be a logistical nightmare or too confusing but in an attempt to make everyone happy, I've decided to use both methods!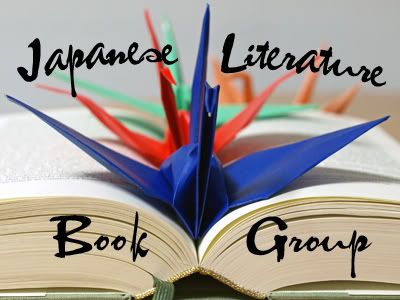 The bi-monthly book group will discuss the current selection every two months (January, March, May, July, September, and November) on the
last Monday
of the month.
Our first book for the book group is
The Old Capital
by Yasunari Kawabata.
The discussion for
The Old Capital
will begin on Monday, November 30th, 2009. This gives you about two months in which to procure a copy, if necessary, and read it. Of course you're welcome to post your reviews and/or thoughts on your own blog any time. You can also join in the discussion any time after it has been posted. The comments will remain open and even if you couldn't read the book in the allotted time, we'd still love to hear your thoughts. I will try to post some questions or information about the book to kick start the conversation, but please feel free to discuss any aspect of the book you'd like, or to ask any questions you may have. Also, if you have any questions while you are reading, feel free to email me so I can bring them up in the discussion post.
The second book for the reading group will be
The Housekeeper and the Professor
by Yoko Ogawa.
The discussion for
The Housekeeper and the Professor
will begin on Monday, January 25th, 2010.
These two books were chosen somewhat arbitrarily from suggestions by those who responded, just to get us going. In November I'll ask you to nominate titles that you'd like to read with the group and then we'll have a poll to choose the next selections more democratically. Does that sound fair?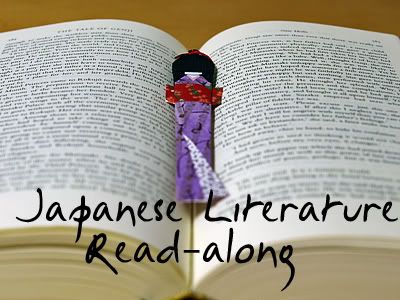 The Read-along is for those selected titles that are perhaps longer, for which we could all use some mutual cheer-leading, or that would benefit from a closer reading. The schedule will vary depending on the length of the books. The updates will typically be posted here
on the 15th
(and sometimes the 30th) of the months in which a read-along is scheduled, and will run concurrently with the book group. You can post about each section on your own blog according to the schedule or any time that is convenient. I'll include any links on the updates so we can compare thoughts.
Our first read-along is
I Am a Cat
by Natsume Soseki. Since it comprises three volumes, my original idea was to read it over 3 months. However, I then wondered if that would perhaps be too long causing our reading to lose momentum. It's a little thick but nowhere near as chunky as, say,
The Tale of Genji
! The whole book (I have the three volumes in one edition from Tuttle Publishing, as in the image to the right) is a little over 600 pages long so is it reasonable to read those 600 pages in 6 weeks?
My thought was to divide it up as follows:
Volume One (156 pages) for November 15th
Volume Two (196 pages) for
November 29th (a day early because on the 30th I'll be posting the discussion for The Old Capital)
December 15th
Volume Three (279 pages) for
December 15th
January 15th
For a total of 631 pages.
This schedule would have us finish by mid-December, and would work out well for those who prefer not to carry over a book from one year to the next. But I expect most of us will be reading other books at the same time so please let me know if you need more time. I'm happy to extend the read-along if needed.
Update: After some discussion and to hopefully allow more people to join in, the schedule for the first read-along has been extended to run from November to January. See the corrections to the schedule above.

The second read-along book is tentatively set as
The Wind-up Bird Chronicle
by Haruki Murakami. If the above schedule stands, it would most likely start in January. However, like for the book group, later this autumn I'll ask for suggestions of other possible titles that we can vote on to choose our next book for a read-along.
I've added the buttons, and the current book choices with the relevant dates, to my sidebars. I haven't decided on the best place for them yet so they may still move around a little, but they'll be there. You'll also be able to easily find the information about current (and past reads once we have some) for both groups by clicking on the "Book Group" or "Read-along" tabs in the linkbar above. I'll also label the posts either "JLit Book Group" or "JLit Read-along" so you'll always be able to search for the posts that way as well.
Feel free to grab the buttons for your own blog, if you'd like. Please save them to your own server and let me know if you'd prefer a smaller version or need help resizing. Also, please do leave a comment if you're planning to join in the discussion for
The Old Capital
, or the read-along for
I Am a Cat
. I'd like to have an idea who's participating, so that I can watch out for any posts you do about the books, and so I can link to them in any updates. Equally, if you could let me know when you've posted about one of the books, so I don't miss any, that would be great. Please let me know if you have any questions. I'm looking forward to reading and discussing some great Japanese Literature with you. Let the reading begin!