I've
got a plan
, now for the books. Following my own tips in the previous post, the books in my stack for the
24 Hour Read-a-thon
this weekend are all either short, and/or include pictures, or are YA ones that are supposedly very quick, suspenseful reads.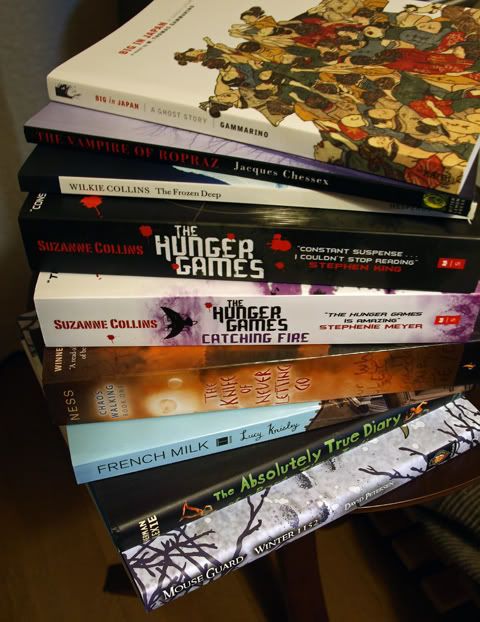 The stack:
Big in Japan: A Ghost Story
by M. Thomas Gammarino -- A new book coming out at the beginning of November from the lovely people at
Chin Music Press
. It would be great if I could read it this weekend but either way I'll be reading it soon.
The Vampire of Ropraz
by Jacques Chessex -- This one is so short, it's a novella really. I'm thinking of reading this one late at night, when the house is quiet....
The Frozen Deep
by Wilkie Collins -- Another short one, this is the book I'll be reviewing for
The Classics Circuit
Wilkie Collins' tour next month.
The Hunger Games
and
Catching Fire
by Suzanne Collins -- I'm leaning towards starting with
The Hunger Games
since I'll be starting my reading early and will have a few hours of uninterrupted reading before the read-a-thon officially begins.
The Knife of Never Letting Go
by Patrick Ness -- I'm not sure I'll read this during the read-a-thon, especially if I read
The Hunger Games
and maybe
Catching Fire
as well, but I've heard such good things about it it's on the stack anyway.
French Milk
by Lucy Knisley -- A graphic novel for when I'm getting sleepy.
The Absolutely True Diary of a Part-Time Indian
by Sherman Alexie -- Not a graphic novel but it does have lots of illustrations and generally looks like it'll be a fun read.
Mouse Guard: Winter 1152
by David Petersen -- The art in these books is so gorgeous; perfect for tired eyes.
The Three Incestuous Sisters
by Audrey Niffenegger (not shown) -- Ditto on being good for when my eyes are tired of too many words.
I'm looking forward to all of them but am probably most excited to finally read
The Hunger Games
since there's been so much buzz about this series.
What book(s) are you most looking forward to reading during the read-a-thon?