I had a little bit of a book-buying splurge near the end of last month. A couple more are still on their way but here are some of my pretty new temptations. If only I could read them all right now!
The Moonstone
by Wilkie Collins
I've been meaning to read this since I read
The Woman in White
a few years ago, but when I heard that
Drood
by Dan Simmons (which I have waiting for me on the shelf) contains spoilers about
The Moonstone
, I knew I had to get to it sooner rather than later, which meant actually owning a copy first.
The Hunger Games
and
Catching Fire
by Suzanne Collins
After hearing so much buzz about these books, especially on Twitter, I've given in and plan to read at least the first one during the read-a-thon later this month.
Big in Japan: A Ghost Story
by M. Thomas Gammarino (an ARC, it'll be published on November 1st)
Oh! A Mystery of 'mono no aware'
by Todd Shimoda
These are both from the wonderful
Chin Music Press
.
The Knife of Never Letting Go
by Patrick Ness
This is another book that I ended up
having
to buy because of all the talk about it on Twitter. But
Nymeth
loved it and that's good enough for me!
A Quiet Life
by Kenzaburo Oe
Mark David
has mentioned this one a few times to I added it to my order along with the other Japanese literature titles below.
The Old Capital
by Yasunari Kawabata
The Housekeeper and the Professor
by Yoko Ogawa
These are both for the newly started
Japanese Literature Book Group
. Anyone is welcome to participate and you still have plenty of time to grab a book and join in. The discussion for
The Old Capital
will begin on November 30th, and for
The Housekeeper and the Professor
on January 25th, 2010. I'm really looking forward to discussing these with some of you.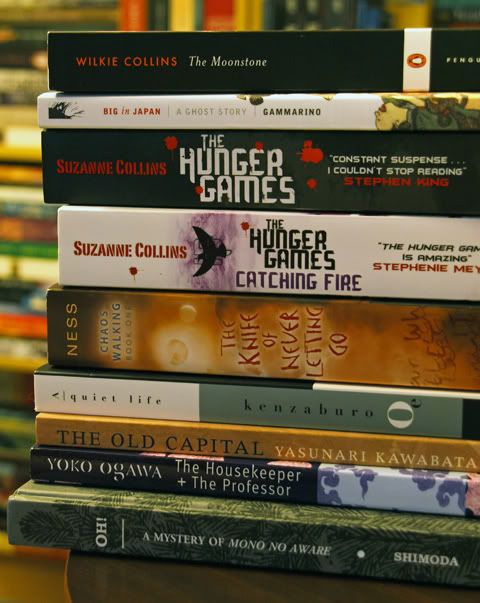 What new books have you got recently?
Mailbox Monday
is hosted by Marcia at The Printed Page.