It's now a little after 6 PM on Sunday here in Japan. I spent some time visiting other blogs but I have to say that blog-hopping has taken much longer than I expected, plus it's so easy to get distracted so I haven't visited nearly as many as I would like. Whether I made it by to leave a comment or not though, I hope you're all having a great read-a-thon! As a result of blog-hopping, making ice cream, and doing the dishes (see Other Activities below), I really didn't start reading again until about 4 PM Japan time. Gah! With the hours quickly counting down, it's now that I always start feeling panicky about not having read enough. I did finally sit down with
The Vampire of Ropraz
by Jacques Chessex. A super slim novella that I just finished a few minutes ago.
Actual Time Spent Reading (since last update)
: 70 min.
Pages Read (since last update)
: 89
Total Time Spent Reading: 8 hours 35 min.
Total Pages Read: 723
Books Completed: 3 (
The Hunger Games
- Suzanne Collins,
Mouse Guard: Winter 1152
- David Petersen,
The Vampire of Ropraz
- Jacques Chessex)
Food/Drink Consumed
: For lunch, a bagel sandwich, and sparkling water. Then later as a snack,
senbei
(rice crackers), and iced green tea.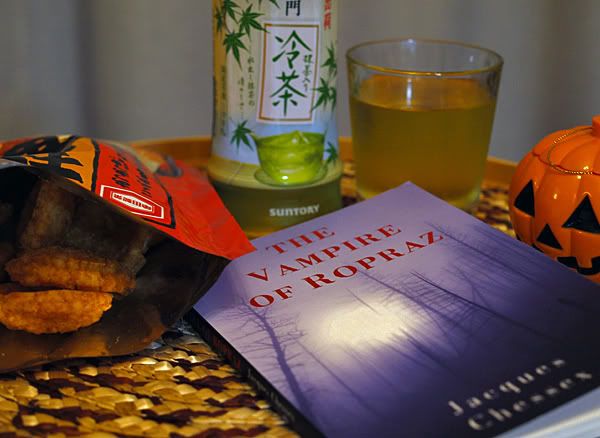 Other Activities
: H decided to make ice cream (the ice cream maker was one of our best purchases this past summer, homemade ice cream is delish!) so I helped with that a bit. Hopefully it'll be hardened enough to have some near the end of the read-a-thon and I'll post a picture. Then we did the dishes and some other tidying up.
Mood
: A little disappointed that I haven't accomplished more, but having fun all the same. Why does the read-a-thon always go by so so very quickly?
It's hard to believe the read-a-thon is almost over already! Just under 3 hours left. For anyone who has been awake for the whole thing so far and is still up, you can do it!!! You're almost there!
BTW, just a note, especially to my regular readers, that even though I'm not replying to comments on my blog during the read-a-thon, I will do so tomorrow. So if you've asked a question you
can
expect a response.
---
Mini-challenge completed (since last update)
: The
Page 23: "I'd rather read..." Mini-challenge