I thought I'd join in a new meme (new to me, that is) this week as it combines two of my favourite things: books and tea.
Thursday Tea
is a weekly meme hosted by Anastasia at
Birdbrain(ed) Book Blog
.
To play along, all you need is some tea, a book, and the answers to these questions: what tea are you drinking (and do you like it)? What book are you reading (and do you like it)? Tell us a little about your tea and your book, and whether or not the two go together.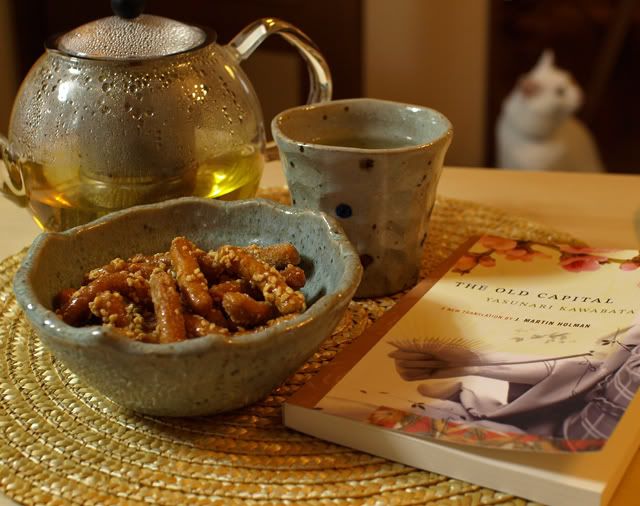 Today's tea is an ordinary green tea. I don't remember where I got it from anymore because I put it into a tea canister and didn't think to make a note of it. I love all kinds of tea but green tea is great when you want something a bit refreshing, and calming at the same time. I know my Bodum teapot doesn't really match the Japanese pottery but it is great for making tea. And that's Bailey there in the background.
I thought I'd also include a snack, because the only thing better than tea and a book, is tea, a book and something sweet, right? But also because it ties in nicely with the
current Hello Japan! mini-challenge
which is focusing on Japanese food.
Karinto
is like a sweet cracker, made from deep fried bits of dough that are then coated with sugar, and maybe sesame seeds or peanuts like we had today. The slight sweetness of the
karinto
goes really well with hot green tea.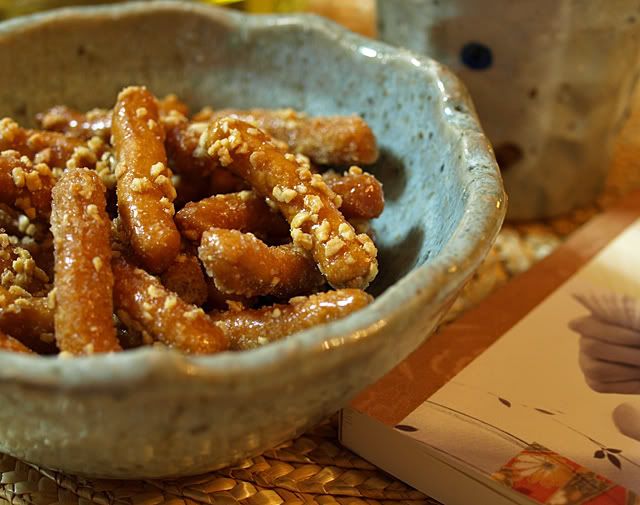 The book I'm reading is
The Old Capital
by Yasunari Kawabata. I have to admit I'm not too far into it yet but I'm enjoying it, and I have high hopes for it. Kawabata is a Japanese author, who won the Nobel Prize for Literature, and as the story is set in post-war Kyoto, it's a perfect match with both the green tea and
karinto
.