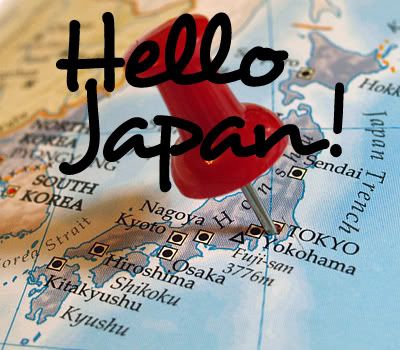 I'd hoped to get this posted a little earlier but here is the Hello Japan! mini-challenge for November. But first a quick recap for anyone who is new.
Hello Japan!
is a monthly mini-challenge focusing on Japanese literature and culture. Each month there will be a new task which relates to some aspect of life in Japan. Anyone is welcome to participate. You can post about the task on your blog. Or if you don't have a blog, you can leave a comment on the Hello Japan! post for the month. Everyone who completes the task will then be included in the drawing for that month's prize. For more information, just click on the Hello Japan! button above, or if you have any questions please feel free to email me at
inspringthedawn AT gmail DOT com
.
November's Topic
In a comment over on
Paperback Reader's post for the October mini-challenge
, one of Claire's readers jokingly asked if eating sushi counted towards the Hello Japan! mini-challenge. Then in a comment on
October's link roundup
,
Kristen M.
said about the next challenge [for November],
"I hope it involves tempura"
. Well, you are going to get your wish! November is all about Japanese food. I hope you're hungry!
November's Task
This month the task is simply
to eat Japanese food
, take a picture if possible, and tell us about what you ate. You can go to a Japanese restaurant, or make something at home. It can be a favourite dish, or you can challenge yourself to try something new. The choice is up to you.
If Japanese food is something you haven't really tried before, or you would like some ideas of other types of Japanese food, check out these links, because of course it's not just sushi!
JapaneseFood.About.com
: For lots of recipes, an introduction to Japanese cuisine, Japanese table manners, and much more.
Eat-Japan
: Search for recipes by entering an ingredient (ie.
tofu
,
shiitake
,
miso
) in the Keyword Search. This site also has a listing of Japanese restaurants in the UK.
japan-guide.com
: A list of popular Japanese food.
Book of Yum Blog
: For a few gluten-free recipes including
gluten-free vegetarian yakisoba recipe
, some
gluten-free vegetable side dishes
and a couple others. :)
Or you could borrow a Japanese cookbook, like
Harumi's Japanese Cooking
, from your local library.
The main purpose of this month's task is simply an excuse to enjoy some good food, and maybe even learn a little something in the process. If, however, you don't have access to any Japanese food, no restaurants nearby, no supermarkets that carry Asian food, but you'd still like to participate, you can tell us what you would like to eat if you could, or you could look up something relating to Japanese food, Japanese chopsticks etiquette, for example, and tell us why you should never leave chopsticks sticking up vertically in a bowl of rice. And even those of you who are busy writing novels for NaNoWriMo this month, you still have to eat! ;)
November's Prize
One person who participates in this month's mini-challenge will be selected at random to receive this pair of chopsticks and chopstick rests.
Once you have completed the task, don't forget to come back here by the end of November and add the link to the Mr Linky below. Please submit the link to the actual post, not just to your top page, and please only submit links to posts relating to the Hello Japan! task for this month. All other links will be deleted. Thank you for your understanding!