My Holiday Swap parcel arrived today and I just had to open it up right away to find out what was inside. On a side note, someone at Japan Post was apparently also curious about the contents as it was opened and inspected at Customs. I wonder what they thought it might contain - it was distinctly book-shaped - and if they were disappointed. LOL. I'm thrilled though. Inside was a copy of
The 19th Wife
by David Ebershoff, a book that has been on my wish list ever since it was making the blog rounds a while back, along with some yummy-smelling foot soak and lotion. A very big thank you to my Book Blogger Secret Santa, Marion of the blog,
Books & Fiber
. I'm very much looking forward to reading the book, and treating my tired feet to a nice hot soak, preferably with a good book, some chocolate and a big mug of tea at hand. :)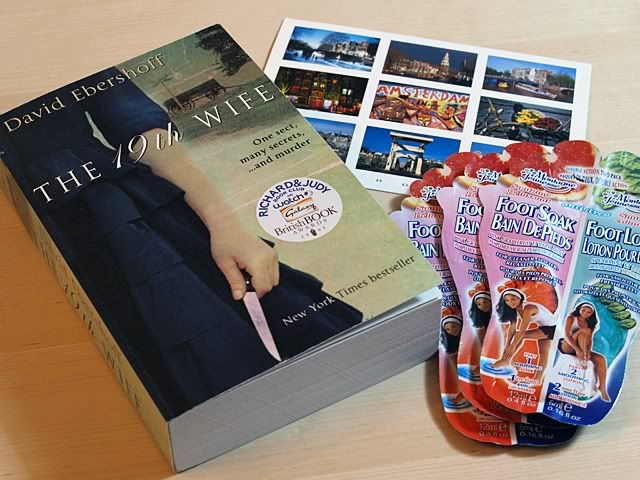 And in other good news, I only have one more day of work (tomorrow, which is Friday here) and then I'm off for two weeks! Some of that time will be spent doing the New Years thing with the in-laws but I so can't wait to catch up on my sleep, to have some 'me' time, and some quality reading time. Let's not talk about the
Christmas
New Years cards that I haven't written or sent yet, ok?
Happy holidays!