I didn't sign up for the Virtual Advent Tour initially because we don't really have a big celebration for Christmas, but Kailana asked me whether I'd like to post something on Christmas in Japan so here is a little about how we spend this time of year.
In fact I always have a hard time feeling completely festive this time of year in Japan because a) there's no snow and I adore a white Christmas! and b) most importantly Christmas isn't quite Christmas here. At least not the kind of Christmas I grew up with. First of all December 25th is just a regular work day (the year end holiday officially begins on Dec. 29th), and even if it were to fall on a weekend, most Japanese seem to think Christmas is only celebrated on Christmas Eve anyway. Needless to say, despite the small percentage of the population that are Christians, for this largely non-practising Buddhist/Shinto nation, Christmas is a borrowed festival, but one that they have somehow made their own.
In recent years, most of the major shopping areas have lots of lights and decorations. So most places you go shopping you'll see Christmas trees, and there will often be Christmas music playing in the background. Nothing remotely religious though, no Silent Night, or Away in the Manger, and no Nativity Scenes anywhere. Instead Santa reigns supreme and it's Jingle Bells, and We Wish you a Merry Christmas! You don't see many lights or decorations on homes though, and I miss that. This year I got a little Christmas tree for our apartment though, and I have to say it makes me smile every time I look at it.
As I mentioned, December 25th is just a regular day, but December 23rd is a National Holiday as it's the current Emperor's Birthday. Since H had the day off (but working again as usual today and tomorrow) we decided to celebrate our Japanese style Christmas yesterday.
Christmas in Japan typically involves fried chicken, and cake. Turkeys are very rare and usually only to be found in import food stores in central Tokyo. Even whole chickens aren't too common in the supermarkets because Japanese kitchens just don't have anywhere to cook them. Nowadays you can buy a combination microwave/convection oven but it's not quite the same, and still on the small side. So thanks to some clever marketing, KFC has become the standard Christmas meal with people lining up on the 24th to buy their buckets of Christmas chicken. This is then followed by the 'oh so traditional' Christmas cake which is most commonly a version of strawberry shortcake with lots of white icing. Of course there are all kinds of choices available nowadays though, and the department stores offer some super fancy ones. Not a big fan of KFC, H and I started our own Japanese Christmas tradition a few years ago of Christmas sushi, we are in Japan after all, followed by the aforementioned cake, which I have to admit is mostly for H's benefit as he has a major sweet tooth. So yesterday we went to a nearby
kaiten sushi restaurant
(click on the link to visit the previous post), and this year* we opted for a chocolate Bûche de Noël from a local cake shop.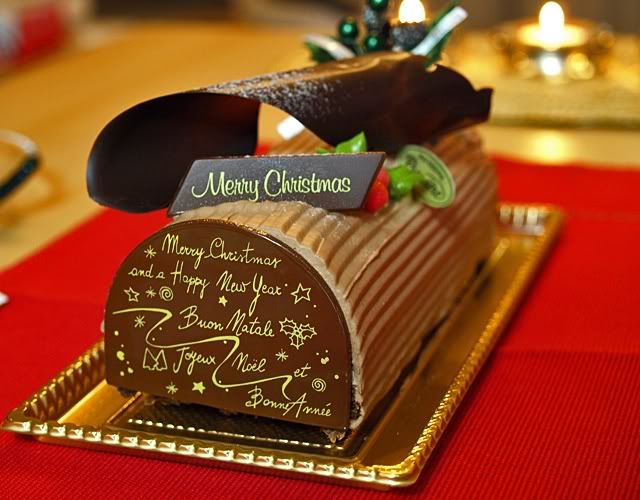 *Last year we were in Canada for Christmas but I've posted about our Japanese style Christmas before:
Christmas 2007
and
Christmas 2006
.
Not your usual Christmas dinner, eh?! However, tomorrow, the 25th, I'm going to make a more Canadian style Christmas dinner with chicken, and gravy, and stuffing and cranberry sauce. More my idea of a proper Christmas meal anyway. And then next week we'll spend some time with the in-laws to celebrate New Year's. In Japan, New Year's is the main event. It is like the Western world's Christmas. Everyone is off work then, and it's the time to visit family, laze around the house, and eat traditional food, which I'll post some photos of in the New Year.
But for everyone getting ready for Christmas tomorrow, メリークリスマス (
Meri kurisumasu
), and however you celebrate, I wish you all a very
Happy Holiday!