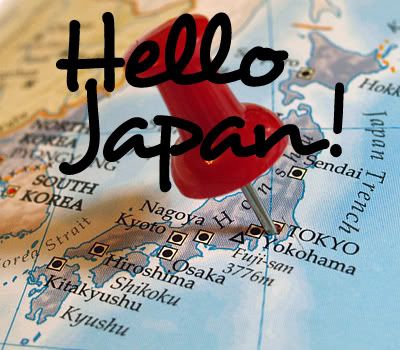 Hello Japan! is a monthly mini-challenge focusing on Japanese literature and culture. Each month there will be a new task which relates to some aspect of life in Japan. Anyone is welcome to participate. You can post about the task on your blog. Or if you don't have a blog, you can leave a comment on the Hello Japan! post for the month. Everyone who completes the task will then be included in the drawing for that month's prize. For more information, just click on the Hello Japan! button above, or if you have any questions please feel free to email me at inspringthedawn AT gmail DOT com.

I debated whether to have a mini-challenge at all this month since a lot of people are otherwise occupied with the preparation and celebration of the holidays. I also thought about possible extending the November challenge since I, and perhaps others, didn't get around to posting what I'd wanted to. But then I decided to go ahead thanks largely to a suggestion by Travis of
Over a Hedge
.
Travis came to me with a great idea for the current
Japanese Literature Book Group
selection,
The Old Capital
by Yasunari Kawabata, which is set in Kyoto, and in which many scenic spots in Kyoto are mentioned. He said, "maybe you could run a contest for best photo of a location that appears in the novel. It might help readers who've never been to Japan visualize the settings. As an example, here's a link to
my photo of the camphor trees at Shorenin
that get mentioned in the novel."
I hope Travis won't mind that I thought it would be fun to make it a
Hello Japan!
task and open it up to anyone, not just those of us who read
The Old Capital
for the book group, and also to take it a little bit further.
December's Topic
The city of Kyoto is full of beautiful old temples and shrines* and numerous scenic spots. It truly is a fabulous place to visit and always my first recommendation if anyone will visit Japan. According to the
wikipedia entry on Kyoto
, there are some 2000 temples and shrines in Kyoto, and I wouldn't be surprised. Quite a few of the well-known ones are visited by the characters in
The Old Capital
, to admire the cherry blossoms in spring, or to enjoy the view any time of year.
*Temples are Buddhist places of worship, whereas Shrines are Shinto, the native religion of Japan. For more information on Shinto, visit the
Shinto page on wikipedia
, or this
introduction to Shinto from the BBC
.
December's Task
The task for this month is
to choose a temple or shrine in Kyoto and share what you learned about it.
I know that many of you haven't had a chance to visit Japan yet but this is where the wonderful power of the internet comes in. You can dig as deep or not, as you like. At the very least you can simply post a photo of your chosen temple or shrine. But if you'd like to, and have time to, you can learn more about the history of the temple or shrine, the god or gods worshipped there, popular festivals held there. Anything about that temple or shrine, just let your curiosity guide you.
And if you have had a chance to travel to Japan and have some pictures, we'd love to see those. For my contribution, I'll be posting some photos from
Heian Shrine
, from when we visited a few years ago.
One word of caution, if you are going to post a photo on your blog that you found in your internet search, please be aware of copyright protection and be sure to acknowledge the source. I'd hate to inadvertently be encouraging you to break copyright. If you're not sure, or you have any doubt you can always link to the photo instead of posting it on your own blog.
By doing this group approach, hopefully we'll be able to learn a little about several of the historical sites in Kyoto. But it doesn't matter if more than one person researches the same temple or shrine, as each person is bound to approach it differently or find out something different.
Those of you who read
The Old Capital
, might like to choose one of the locations mentioned in the book. Otherwise, here are some links to get you started.
A list of Temples and Shrines in Kyoto
.
An
introduction to the history of Buddhism in Japan
, plus a long
list of temples and shrines in Kyoto
. The entries include photos and sometimes where applicable, the reference point in
The Tale of Genji
.
A smaller selection of temples and shrines but
a beautiful site with gorgeous photos
.
Historic Monuments of Ancient Kyoto
, those locations that are listed as UNESCO World Heritage Sites.
Update:
I think I made this month's mini-challenge sound more difficult and complicated than it really is. You don't have to have been to Japan, or have visited any temples or shrines, or have any knowledge of them. Simply Google one of them and post a photo, or any interesting fact about the temple or shrine that you discover. This month's task is in conjunction with the Book Group's current selection of
The Old Capital
, but it's not limited to that title. Feel free to post a quote, and/or photo from another book about a Kyoto temple or shrine. Or for the foodies, why don't you get creative and make a bento inspired by a certain temple or shrine? :P I'm very open and flexible. This mini-challenge is meant to be fun!
December's Prize
One participant who takes part in the challenge this month will be chosen at random to win this set of bookmarks of flower gardens in Kyoto.
Once you have completed the task, don't forget to come back here to add your link to the Mr. Linky below. Please submit the link to the actual post, not just to your top page, and please only submit links to posts relating to the Hello Japan! task for this month. All other links will be deleted. Thank you for your understanding!
The small print: Links in this post to Amazon contain my Associates ID. Purchases made via these links earn me a small commission. For more information visit my About Page.