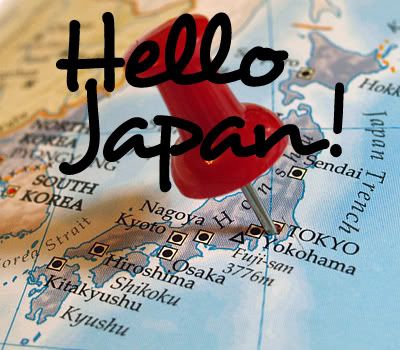 There were a couple of late additions for the October mini-challenge (
to read or watch something scary, spooky or suspenseful
), that I thought I'd mention here in case you missed them.
Velvet of
vvb32 reads
continued her watching of the movie
Kwaidan
, with the last two stories which included
Hoichi, the Earless
, and
In a Cup of Tea
.
Travis at
Over a Hedge
wrote about the movie
Kwaidan's Hidden Depths
.
Lynda of
Lynda's Book Blog
read Real World by Natsuo Kirino
.
Harry at
Temple Library Reviews
read the manga, School Mermaid
.
You are always welcome to add your related links for each month even if you're a bit late. You won't be eligible for the prize if it's already been handed out, but we'd still love to know what you did.
* * *

OK, on to November's task which was
to eat Japanese food, take a picture if possible, and tell us about what you ate.
But before I get to the links, I'd like to mention a great blog post,
So Much to Eat, So Little Time
, that was brought to my attention via the author, Wendy Tokunaga (
@Wendy_Tokunaga
) on Twitter, because Japanese food really is so much more than just raw fish!
So here's what you ate in November:
Velvet of
vvb32reads
tried some Japanese sweets
to which she had to say
"Yummy-ness all-around."
And for fun she
created a virtual bento
.
arkonite of
My Bento Box
regularly eats Japanese food and shared photos of a couple of her
bento lunches, the Japanese food in her cupboard, and her Japanese cookbooks
.
Novroz of
bokunosekai.wordpress.com
had
some ramen, and talked about her previous experience trying Japanese style curry rice
for the first time.
Kristen M. of
We Be Reading
went with her family to
her favourite Japanese restaurant
where between them they had sushi, gyoza, and tempura.
Sakura of
chasing bawa
celebrated her birthday with sukiyaki
, the perfect dish to eat in winter when it's cold outside.
Lynda of
Lynda's Book Blog
reviewed the cookbook, A Little Taste of Japan
.
Kate of
Read This Book!
shared
several photos of her Japanese meal
, and came up with a list of 5 reasons why you should eat Japanese food.
Tineke Schaap at
mylifeshesaid
tells us about
her discovery of Japanese food
.
Natakiya of
Bento Anarchy
decided to try something different and made herself a
Japanese breakfast bento
.
Gnoe of
Graasland
made a very pretty bento and talked about some of
her Japanese food experiences and failed cooking attempts
. :)
Terri B. at
Tip of the Iceberg
went to a favourite local restaurant
with her husband and enjoyed a great meal.
And me, well... I posted about
a Japanese sweet, karinto
. But I had a few more posts planned about everyday Japanese food, and even took some photos, but somehow the month completely got away from me. I will still post them though over the next little while so I hope you'll keep an eye out for them. I know a couple others of you also complained that you ran out of time for November's mini-challenge, and I'd really love to see what you were planning. So please go ahead and post, and I'll add the links to the next round-up.
As for the prize, chosen randomly from those that participated in November, the chopsticks and chopstick rests go to
Tineke Schaap
!
(Please give me your mailing address so I can get those in the post for you.)
Thank you everyone for playing along. Coming soon, the Hello Japan! December mini-challenge...
And also just to let you know that I've started a separate Twitter account for
Hello Japan!
Please follow
@HelloJpn
for updates.