I didn't know Dewey very well personally, but I read her blog, and participated in some of her community building events, and she always exuded such a love of books, and a keen desire to bring people together. It's a true testament of her enthusiasm that her presence is still felt in the book blogging community, and that several of the events that she started are still going strong.
Dewey was also very generous both in giving away books to her fellow bloggers and supporting book-related charities. In her memory, Lisa at
Online Publicist
has created
The Dewey Tree Project
.
As I write this, I think of a favorite blogger who passed away this time last year. Her spirit lives on in the Dewey Read-a-Thon, Weekly Geeks, and The Bookworms Carnival. She loved reading. She loved books. She supported Banned Books Week and believed everyone had the right to reading material. In her honor, I'm calling this donation project

The Dewey Tree

. It's a little bit

The Giving Tree

, a little bit Dewey, a little bit charity. :-D

Here's what you do:
*Gather up the books you can live without. It can be 4 books, 10 books, or 20 books!
*Find a worthy group you would like to donate your overflow books to. It can be your local library, a literacy campaign (mine will go to the literacy center I volunteer for), or overseas. There's a great list of book donation sites here on the ALA. Find a charity that speaks to you!
*Then take a picture of your donation and email it to me (onlinepublicist [AT] gmail [DOT] com). It can be a pic of the mailing label on your package, one of your kids giving a box of books to a librarian, or you handing books over to your literacy center. Be creative and have fun!

Such a lovely idea, I think that Dewey would be pleased. Click on the button for more information. I'm not taking part directly, but as you know I've been reading for
Book Wish Foundation
this year as part of
The Year of Readers
, and I'll top up my December total with a little extra in memory of Dewey.
* * *

I also took part in
Dewey's Books Reading Challenge
this year. The goal was to read 5 books that Dewey reviewed. Here are the books I read (click on the titles for the first three to read my reviews; the comments from Dewey are taken from her reviews of the books on her blog):
1.
After Dark
- Haruki Murakami
Dewey
:
I would be very unlikely to recommend this book, really. But if I had to pick a group of people to recommend it to, I'd say people interested in Japanese culture. I did find that the most intriguing aspect of the novel. I ended up reading the Wikipedia articles on honne and tatemae, hikikomori, Nihonjinron, giri, and more.
2.
The Graveyard Book
- Neil Gaiman
Dewey
:
I've read several Gaiman books by now, but The Graveyard Book is my favorite.
3.
Looking for Alaska
- John Green
Dewey
:
It's really an outstanding book. I usually feel that the highest praise I can mentally (or in this blog) give a YA book is that it will make kids think. But then I read this book, which made me, a sophisticated adult reader with an actual literature degree, think.
It made me think about death, and what happens after we die (my answer = I don't know and neither does anyone else). And it made me think about the ways in which emotional pain can be as deadly as physical pain. It made me think about my friend who studies religion and has expressed some of the same ideas as Green (who also studied religion). It also made me think about belonging, and what it meant to me as a kid, and what it means to kids I know. It made me think about what, exactly, home is.
4.
Varjak Paw
- SF Said (review pending)
Dewey
:
I think that for a kid reading this, the way Varkjak Paw grows emotionally, and becomes stronger both physically and mentally, would be very encouraging. It sends a message that yes, you can just choose to become a stronger version of yourself, whatever stronger version you choose, if it really matters to you and you really work at it.
5.
The Three Incestuous Sisters
- Audrey Niffenegger (review pending)
Dewey
:
I believe this is the first book of 2008 that I own but am keeping rather than giving away to a reader. For one, it's the sort of beautiful book that you leave out, maybe on a coffee table, for guests to look at, or for you to browse through again now and then. For another, it's astonishingly heavy, and I'm afraid postage would be more than the cost of the book. But I do recommend that you buy it yourselves, if you love visual art.
I agree with Dewey,
After Dark
is my least favourite of these 5 but I'm still glad I read it.
The Graveyard Book
stands out as my favourite but I enjoyed all of the other books and I'm glad this challenge gave me the nudge to finally read them. I still have several other unread books in my TBR that Dewey had read as well. I look forward to reading her thoughts on them too. Thank you to
Chris
and
Robin
for hosting the challenge.
* * *

As a final wrap-up to the reading challenge, Kailana at
The Written World
presented a mini-challenge to all the participants.
[Dewey's] blog was all about community building and [her] influence is living on through the 24-hour Read-a-thon, Weekly Geeks, and other blog events. So now the challenge is for the members of [Dewey's Books] reading challenge to take a page from your book and do something for the good for the community. It could be something you would do anyways, like participating in Weekly Geeks, or it could be something new like starting your first reading challenge. The point is to either make difference in the blogging community or to start something new and then post about it. You can also do something in your own community; it doesn't just have to be the blogging one. It is not for me to tell you what to post, though. It is your decision if it fits.

I'd been toying with the idea of incorporating more Japanese content on my blog and this autumn I finally decided to go ahead with a couple ideas. I started a
Japanese Literature Book Group
, and
Read-along group
, which are both pretty self explanatory I think. I also started
Hello Japan!
, a mini-challenge focusing on Japanese literature and culture. The concept and structure of
Hello Japan!
was largely inspired by Dewey's
Weekly Geeks
. The idea of having a topic, or task, that others would complete in the time frame allowed. The recaps after each task has been completed, and so on. If not for Dewey, who can say if I would've come up with the idea on my own. I'm not sure if it's making much of a difference in the blogging community but I hope that people will learn a little more about Japan because of it. And it is definitely still new.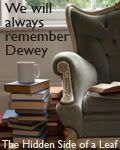 Thank you Dewey for all your great ideas, and for making the book blogging community a better place. We'll never forget you!