These are some books that I bought (mostly) or acquired (one) near the end of last year. The last new books for 2009, which means that a total of 92 books entered my house last year through various means. It's the first year I've kept close track of the books I acquired each month so I'm not really sure how that compares to previous years but I actually tried to be more restrained in my book buying last year, and for the most part, except for a couple of splurges, stuck to a monthly budget for books. However, considering I only read 71 books in 2009, I've made
negative
progress on my To Be Read stacks in the last year. Sigh. But who can resist shiny new books!?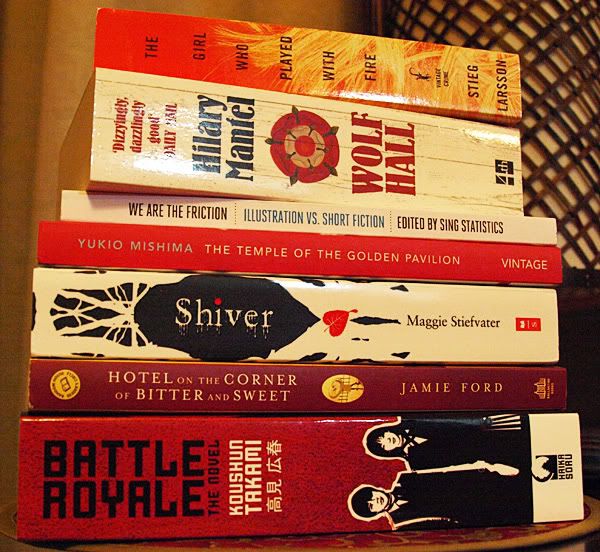 The Girl Who Played with Fire
by Stieg Larsson
I haven't even read
The Girl with the Dragon Tattoo
yet but plan to this year for sure, and had to pick this up when I saw that it was out in paperback* and so reasonably priced.
*Even though I know the British editions were published earlier, I have to admit I really prefer the US covers and my copy of
The Girl with the Dragon Tattoo
is the US paperback so I'm going for consistency here.
Wolf Hall
by Hilary Mantel
Bought in a weak moment at the bookstore, again because the paperback was quite cheap, plus it did win the Man Booker Prize after all. I'm not really up on my Tudor history though so I'm a little intimidated by it.
We are the Friction: Illustrations vs. Short Fiction
, edited by Sing Statistics.
Like the
special cloth-bound Penguin classics
that she
forced
me to buy, this is another book purchase to blame on Frances at
Nonsuch Book
. Her
book lust posts
are dangerous! Fun concept for a book though:
The book paired writers with illustrators, both established and emerging in their disciplines. Each then produced new work inspired by the work of their partner: stories from illustrations, and illustrations from stories. The result is an erratic, eclectic collection of work that takes in space travel, Japanese deities, monster husbandry, and the Marx Brothers. We hope you'll like it.
The Temple of the Golden Pavilion
by Yukio Mishima
Lena of
Save Ophelia
suggested this one, and I've visited Kinkaku-ji, the temple of the title, in Kyoto a few times. Since the story is also loosely based on a real event, I decided I simply had to add this one to my Japanese literature shelves.
Shiver
by Maggie Stiefvater
Lots of raves about this one on Twitter so I caved.
Hotel on the Corner of Bitter and Sweet
by Jamie Ford
Received from the publisher for the
TLC Blog Tour
later this month. I'm so glad to finally have a copy of this book as I've been wanting to read it since it first made the blog rounds when it came out in hardcover. I'll be starting it very soon.
Battle Royale: The Novel
by Koushun Takami
I read the first volume of the manga, based on the book, in December but that made me want to read the novel first. I'm quite looking forward to it and hope to read it before too long.
As an aside, I thought it was interesting that all the books are combinations of red, white and black. I love red so am I subconsciously drawn to the red covers? Or is it simply coincidence? Hmmm...
The small print: Links in this post to Amazon or The Book Depository contain my Associates or Affiliates ID respectively. Purchases made via these links earn me a small commission. For more information visit my About Page.