Thursday Tea is a weekly meme hosted by Anastasia at Birdbrain(ed) Book Blog. To play along, all you need is some tea, a book, and the answers to these questions: what tea are you drinking (and do you like it)? What book are you reading (and do you like it)? Tell us a little about your tea and your book, and whether or not the two go together.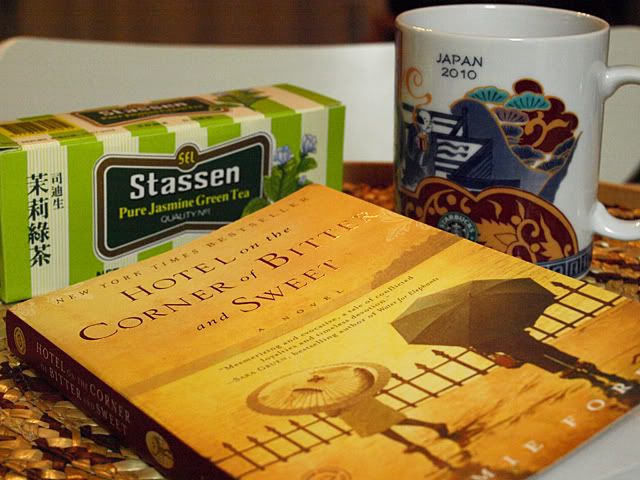 When Henry arrived in the school kitchen that afternoon, there was a new face, though because it was turned toward a stack of beet-stained serving trays, he couldn't see much of it. But it was clearly a girl, probably in his grade, about his height; she was hidden behind long bangs and the black strands of hair that framed her face. She sprayed the trays with hot, steaming water and put them in the dish rack, one by one. As she slowly turned toward Henry, he noticed her slender cheekbones, her perfect skin, smooth and lacking in the freckles that mottled the faces of the other girls at the school. But most of all, he noticed her soft chestnut-brown eyes. For a brief moment Henry swore he smelled something, like jasmine, sweet and mysterious, lost in the greasy odors of the kitchen.
[p. 19, Hotel on the Corner of Bitter and Sweet by Jamie Ford]

This mention from early in the book, which I am enjoying immensely by the way, inspired me to choose jasmine tea this evening. The jasmine tea I have on hand is
Stassen Jasmine Green Tea
from Sri Lanka. Hot, refreshing and light, it suit my mood perfectly, and goes very well with this story of an older Chinese man remembering back on his unlikely friendship with a Japanese girl in Seattle during World War II. Also pictured is my new limited edition New Year mug from Starbucks Japan which has an almost Chinese-inspired design this year.
What are you reading and/or drinking today?
The small print: This book was received free of charge from the publisher for review purposes; the tea was received as a gift. Link in this post to Amazon contains my Associates ID. Any purchases made via this link earn me a very small commission. For more information visit my About Page.