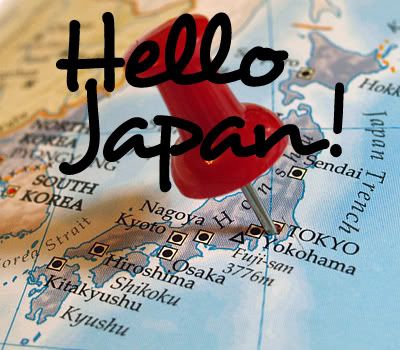 Hello Japan! is a monthly mini-challenge focusing on Japanese literature and culture. Each month there will be a new task which relates to some aspect of life in Japan. Anyone is welcome to join in any time. You can post about the task on your blog. Or if you don't have a blog, you can leave a comment on the Hello Japan! post for the month. Everyone who completes the task will then be included in the drawing for that month's prize. For more information, just click on the Hello Japan! button above, or if you have any questions please feel free to email me at inspringthedawn AT gmail DOT com.
February's Topic
February is all about Japanese films. The Academy Award nominations have just been announced and while there aren't any Japanese films up for awards this year (I didn't miss any, did I?), some have won or been nominated in the past.
Departures
(
おくりびと, Okuribito
) won the Academy Award for
Best Foreign Language Film
last year.
Spirited Away
(
千と千尋の神隠し, Sen to Chihiro no Kamikakushi
) won
Best Animated Feature
in 2002.
The Twilight Samurai
(
たそがれ清兵衛, Tasogare Seibei
) was nominated for for Best Foreign Language Film for 2003. And
Rashômon
(羅生門)
won an Honorary Foreign Language Film Award in 1951, among others. Not to mention the Japanese films that have appeared at Cannes, or other International Film Festivals, or the J-Horror that Hollywood seems to like re-making lately.
February's Task
This month's task is
to appreciate Japanese film
. The most obvious way to complete the mini-challenge is to watch a Japanese film. But as always, feel free to use your imagination as long as it involves Japanese film in some way. For example, you could visit a Japanese film exhibition. Read a screenplay, or a book, that a movie is based on. If you have time, maybe even read the book and then watch the film. Write about a favourite Japanese actor or director. Re-create a scene from a favourite Japanese film. Or whatever else you come up with. The only thing I'd stipulate is that it should be related to a film, or films, that appeared "on the big screen" as opposed to TV dramas.
Here are a few links to get you started:
Cinema of Japan
- listing by decade (from wikipedia).
Midnight Eye
, 'the latest and best in Japanese cinema'.
Nippon Cinema
- news, reviews, trailers.
February's Prize
One participant who takes part in the challenge this month will be chosen at random to win this pack of playing cards, or as the Japanese would say
トランプ
(
toranpu
), featuring scenes from Hayao Miyazaki's
Spirited Away
.
To be eligible for the prize, you must complete this month's mini-challenge and provide a link to your post. If you don't have a blog, you can leave a comment with the details on this post, or email me at
inspringthedawn AT gmail DOT com
. You are welcome to post more than once and add the links below. I love it when you are enthusiastic about a topic! However, each participant will receive only one entry per month. It doesn't matter if you've won previously, you're eligible each month that you participate. Please let me know if you have any questions.
Once you have completed the task, don't forget to come back here to add your link to the Mr. Linky below. Please submit the link to the actual post, not just to your top page, and please only submit links to posts relating to the Hello Japan! task for this month. All other links will be deleted. Thank you for your understanding. Have fun!
The small print:
Links in this post to Amazon contain my Associates ID. Purchases made via these links earn me a very small commission. For more information visit my About Page.