Here we are at the second week into our read-along of
The Pillow Book
by Sei Shōnagon. If you haven't yet started, not to worry as we're going at a very leisurely pace, and are only a few pages in. Plus it's the type of book you can just dip into here and there, so feel free to join in any time. Also just a reminder that for the numbered entries, we're following the McKinney translation but I'll include the corresponding number in the Morris translation when possible. For more information on the translations, check out
'Pillow Book' Friday: Week One
.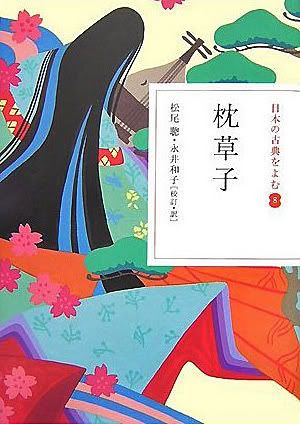 WEEK TWO
:
[11]
Markets - Tatsu Market in Nara. Sato Market ...
[12]
Peaks - Yuzuruha Peak, ...
[13]
Plains - Mika Plain, ...
[14]
River pools - Kashiko Pool. I wonder what hidden depths someone saw in its heart, to give it such a name.
[15]
Bodies of water - Lake Biwa is special. ...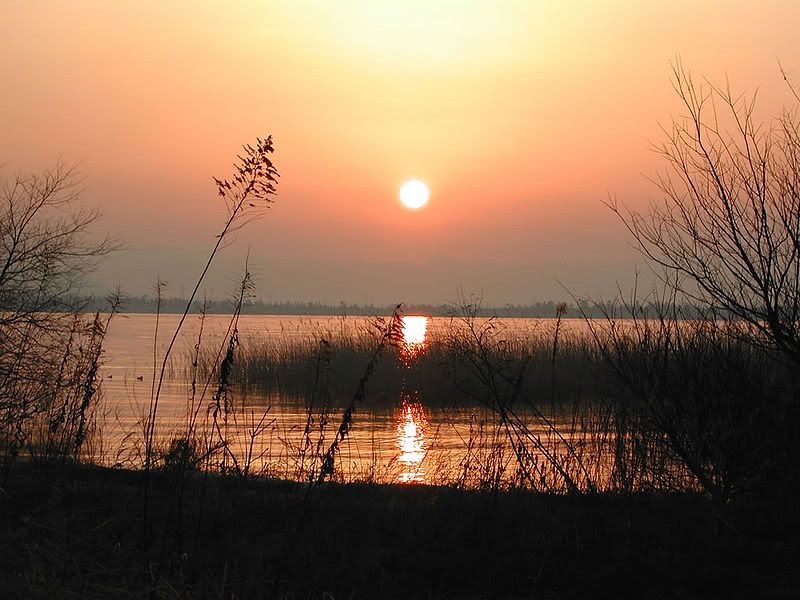 Lake Biwa
, the largest freshwater lake in Japan.
Image courtesy of Wikipedia Commons
[16]
Imperial tombs - Ugurusu Tomb, ...
[17]
Ferry crossings - Shikasuga Crossing, ...
[18]
Large buildings - Tamatsukuri.
[19]
Residences - The Konoe Gate. ...
[20]
The sliding panels that close off the north-east corner of Seiryoden, at the northern end of the aisle, are painted with scenes of rough seas, and terrifying creatures with long arms and legs.
Morris (11):
The sliding screen in the back of the hall in the north-east corner of Seiryo Palace is decorated with paintings of the stormy sea and of the terrifying creatures with long arms and long legs that live there. (p. 34)
A lot of lists this week, mostly just the names of locations. So, what do you think? Did you enjoy the lists? Do you think they were worth reading? Did you try to Google any of the places? Or do you think the Morris version had the right idea to skip these?
Entry [20], referred to the
Kokinshū
(古今和歌集, or "Collected Japanese Poems of Ancient and Modern Times") anthology of early Heian poems originally collected in the early 900s. Poetry plays an important role in life at court and in this section Sei talks about memorizing the poems from this important anthology.
There was also the occasion when Her Majesty placed a bound book of Kokinshū poems in front of her, and proceeded to read out the opening lines of various peoms and ask us to complete them. ... Her Majesty then read out the complete poem for each of those that nobody had been able to answer, marking them with a bookmark, and everyone groaned, 'Oh of course I knew that one!' ... Some of us had copies out the Kokinshū many times, and should really have known it all by heart.
Are there any poems that you know by heart?
On one particular day that Sei recounts, the Empress asked, 'Now I want each of you to write here the first ancient poem that springs to mind.'
If you were asked to write down the first poem that came to mind, which one, if any, would it be?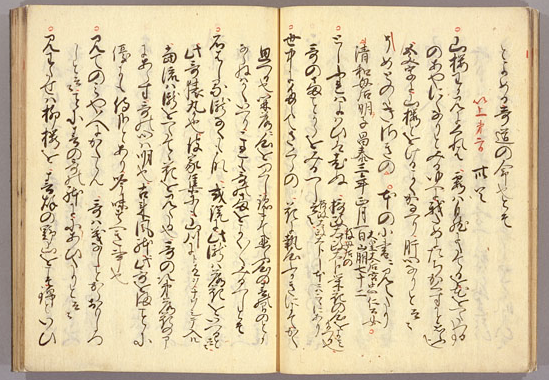 Page spread from a copy of the first volume of
Kokinshū.
Image © National Diet Library
And as always, feel free to ask your own questions on anything from the book, be it culture, history, clothing, and so on. Plus don't forget to let us know what you thought of the week's reading.
For next week
:
[21] Women without prospect...
Morris (12):
When I make myself imagine... (p. 39)
[22] Dispiriting things
Morris (13):
Depressing things (p. 40)
[23] Occasions that induce half-heartedness
[24] Things people despise
[25] Infuriating things
Morris (14):
Hateful things (p. 44~)
[26]
Things that make your heart beat fast
Morris (16):
Things that make one's heart beat faster (p. 51)
[27] Things that make you feel nostalgic
Morris (17):
Things that arouse a fond memory of the past
[28] Things that make you feel cheerful
[29] A palm-leaf carriage should move at a sedate pace.
Morris (18):
A Palm-leaf carriage should move slowly...
[30] A priest who gives a sermon should be handsome.
Morris (21):
A preacher ought to be good-looking. (p. 53~)
*Morris sections 15, 19, 20 appear later in the McKinney. I couldn't easily locate the corresponding sections for the McKinney entries [23], [24], [28] in the Morris but will update this post if that information becomes available.
The topics of next week's reading should be a lot of fun though.
Happy reading!
The small print: Links in this post to Amazon contain my Associates ID. Purchases made via these links earn me a very small commission. For more information visit my About Page.