I haven't posted a Mailbox Monday for quite a few weeks, since last year I believe. I have acquired a few new books though so here are the ones that have come through my door since the beginning of the year. Except for the new Jasper Fforde, the first batch are all Japanese authors. The last 2 volumes of the
Emma
manga series. The Murakami novels for "Murakami March" (aka the JLit Book Group).
The Sound of the Mountain
and
Silence
, which are both on the schedule for the
Japanese Literature Book Group
later this year. And
Some Prefer Nettles
because I've been meaning to get it for ages and I like the new Vintage covers on some of their Japanese classics.
Pinball, 1973
by Haruki Murakami
Emma, volumes 9
&
10
by Kaoru Mori
Some Prefer Nettles
by Junichiro Tanizaki
A Wild Sheep Chase
by Haruki Murakami
Dance Dance Dance
by Haruki Murakami
The Sound of the Mountain
by Yasunari Kawabata
Silence
by Shusaku Endo
Shades of Grey
by Jasper Fforde
Have you read any of these?
Then in addition to the books above that I bought myself, I also received the following books for review.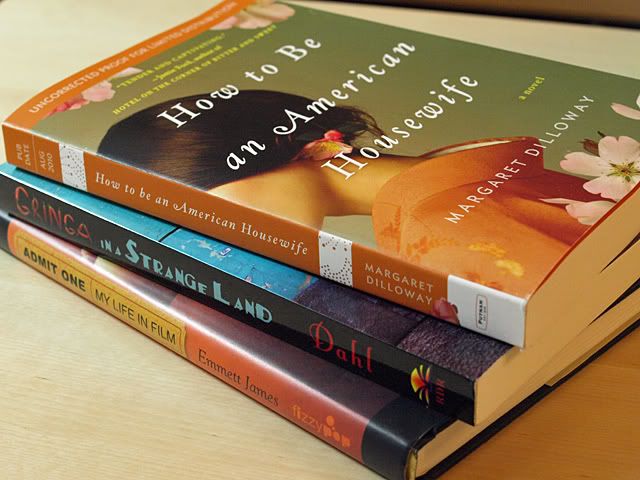 How to Be an American Housewife
by Margaret Dilloway (ARC)
Gringa in a Strange Land
by Linda Dahl
Admit One: My Life in Film
by Emmett James (memoir)
So many good books that I'm looking forward to! Sometimes when I look at the stacks and stacks of unread books lying around, I really wish I could speed read just so I can get to all of them faster! At least at this rate, I'm never going to run out of books to read!
Mailbox Monday
is hosted by Marcia at The Printed Page.
The small print: Links in this post to Amazon or The Book Depository contain my Associates or Affiliates ID respectively. Purchases made via these links earn me a very small commission. For more information visit my About Page.