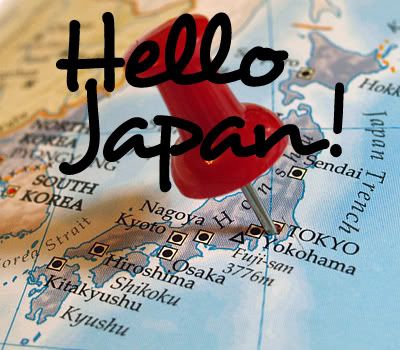 Hello Japan! is a monthly mini-challenge focusing on Japanese literature and culture. Each month there will be a new task which relates to some aspect of life in Japan. Anyone is welcome to join in any time. You can post about the task on your blog. Or if you don't have a blog, you can leave a comment on the Hello Japan! post for the month. Everyone who completes the task will then be included in the drawing for that month's prize. For more information, just click on the Hello Japan! button above, or if you have any questions please feel free to email me at inspringthedawn AT gmail DOT com.
March's Topic
March is all about Murakami, Haruki* Murakami that is. This month for the
Japanese Literature Book Group
we'll be reading two of his earlier books,
A Wild Sheep Chase
, that we'll begin discussing on March 10th, and
Dance Dance Dance
that we'll begin discussing on March 29th. As well, we'll be starting a new read-along book this month, and you guessed it, it's by Murakami as well. On March 15th we'll discuss Book One of
The Wind-up Bird Chronicle
, with Book Two and Book Three following on April and May 15th respectively. So since it was shaping up to be a month of Murakami, I thought we might as well go across the board to include the Hello Japan! mini-challenge too.
March's Task
Haruki Murakami is certainly one of Japan's most famous contemporary authors with his novels bestsellers in Japan and translated into many other languages around the world. This month's task is
to read, or otherwise experience Haruki Murakami's work
. There are several ways to complete the mini-challenge, whether you're new to Murakami or already a big fan.
You can read one of his novels
:
Hear the Wind Sing
(風の歌を聴け
Kaze no uta o kike
)
Pinball, 1973
(年のピンボール
1973-nen no pinbōru
)
A Wild Sheep Chase
(羊をめぐる冒険
Hitsuji o meguru bōken
)
Hard-boiled Wonderland and the End of the World
(世界の終りとハードボイルド・ワンダーランド 
Sekai no owari to hādoboirudo wandārando
)
Norwegian Wood
(ノルウェイの森
Noruwei no mori
)
Dance Dance Dance
(ダンス・ダンス・ダンス
Dansu dansu dansu
)
South of the Border, West of the Sun
(国境の南、太陽の西
Kokkyō no minami, taiyō no nishi
)
The Wind-up Bird Chronicle
(ねじまき鳥クロニクル
Nejimaki-dori kuronikuru
)
Sputnik Sweetheart
(スプートニクの恋人
Supūtoniku no koibito
)
Kafka on the Shore
(海辺のカフカ
Umibe no Kafuka
)
After Dark
(アフターダーク
Afutā Dāku
)
1Q84
(1Q84
Ichi-kyū-hachi-yon
) -- not yet published in English
or one of his works of non-fiction
:
Underground
(アンダーグラウンド
Andāguraundo
)
What I Talk About When I Talk About Running
(走ることについて語るときに僕の語ること
Hashiru koto ni tsuite kataru toki ni boku no kataru koto
)
or a collection of his short stories
:
The Elephant Vanishes
after the quake
(神の子どもたちはみな踊る,
Kami no kodomo-tachi wa mina odoru
)
Blind Willow, Sleeping Woman
Many of the stories in these collections were also published in
The New Yorker
, and can still be found in their digital archives. Unfortunately to read the full stories online you need to be a subscriber (I swear it used to be free!?), but they do seem to have a free 4-issue trial offer if anyone is interested).
If you'd just like to dip your toe in, or don't have time to add another book to your schedule this month, reading
a single short story is enough to complete the mini-challenge
.
You could even read a book
about
Haruki Murakami like
Haruki Murakami and the Music of Words
by Jay Rubin.
For more information you might also like to visit
Random House's Murakami site
, or
Vintage Books UK
. Plus, he has many other essays and short stories that haven't been translated into English, so if you can read Japanese feel free to read anything that he's written, or has been written about him.
I'd also encourage you to be creative, if you feel so inclined. Reading something is the most obvious way to complete the task, but you could also watch the movie,
Tony Takitani
, which is based on the short story of the same name. Or gather some interesting facts about the author, or his books. Or tell us a story of searching for your lost cat! Or a recipe for spaghetti! ;) I'd love to see what you would come up with. And you never know, I might be inclined to add another prize for a truly fun, original post.
March's Prize
I'm going to offer up two prizes this month. Murakami's first two books have never been officially released outside of Japan, and even in Japan,
Pinball, 1973
had been out of print until last year when it was brought back into circulation. So this month, two participants who take part in the mini-challenge will be selected at random to win either a copy of
Hear the Wind Sing
, or
Pinball, 1973
.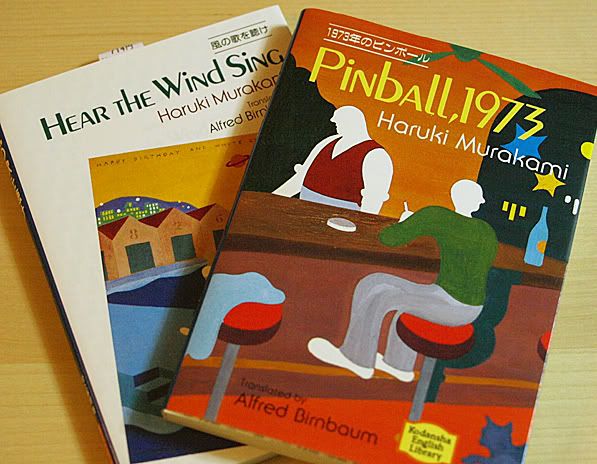 To be eligible for the prize, you must complete this month's mini-challenge and provide a link to your post. Anyone taking part in any of the
Japanese Literature Book Group
or
Read-along discussions
this month will have automatically completed the task, so don't forget to come back here to submit links to any of your related posts. If you don't have a blog, you can leave a comment with the details on this post, or email me at
inspringthedawn AT gmail DOT com
. You are welcome to post more than once and add the links below. I love it when you are enthusiastic about a topic! However, each participant will receive only one entry per month. It doesn't matter if you've won previously, you're eligible each month that you participate. Please let me know if you have any questions.
Once you have completed the task, don't forget to come back here to add your link to the Mr. Linky below. Please submit the link to the actual post, not just to your top page, and please only submit links to posts relating to the Hello Japan! task for this month. All other links will be deleted. Thank you for your understanding. Have fun!
*No slight intended to the other, also famous, Japanese author, Ryu Murakami.
Photo source: I couldn't discover the the original source of the photo, which was found via a simple Google search. I will credit the photographer if that information becomes available.
The small print: Links in this post to Amazon (including book covers) or The Book Depository contain my Associates or Affiliates ID respectively. Purchases made via these links earn me a very small commission. For more information visit my About Page.